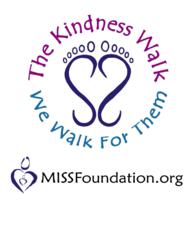 My favorite part is just to know that I'm helping people in need while remembering my sister and all of the kids who died
Phoenix, AZ (PRWEB) April 25, 2012
Brophy College Preparatory Freshman, Cameron Kurtz, and his two younger brothers, Carson and Clayton Kurtz, have been named Grand Marshals of the MISS Foundation's Kindness Walk: We Walk for Them on Mother's Day, Sunday, May 13 at 7:30 am at the Phoenix Zoo for their work in organizing Team Brophy. Their ambitious goal is underway to collect 1000 pairs of new and gently used shoes and raise $5,000 for the MISS Foundation in honor of their sister, Carina, who died when she was 3 ½ months old. These three brothers also earned this recognition for their desire to bring awareness to a family's grief journey when a brother or sister dies. And with help from Brophy's Digital Media Department, they even filmed a YouTube Public Service Announcement titled:Team Brophy-Kindness Walk 2012.
The Kurtz brothers helped to organize the Team Brophy shoe drive to benefit the MISS Foundation's Kindness Project, a program that promotes random acts of anonymous kindnesses in communities around the world in honor of children who have died. Since 1996, more than one million Kindness Projects, large and small, have taken place around the world. This particular Kindness Project culminates on Mother's Day at the memorial walk at the Phoenix Zoo. Bereaved families will attach a special note to the donated shoes in honor of a child who died. The project, titled "Beautiful Soles," will then give the collected shoes to A New Leaf, Child Crisis Center, and Homeward Bound, each legacy of love will literally "walk-on" in another child, mother or father. "My favorite part is just to know that I'm helping people in need while remembering my sister and all of the kids who died," says Cameron.
Please celebrate Mother's Day at the Phoenix Zoo while helping other valley families in need and help to honor the Kurtz brother's community spirit by registering for the Kindness Walk: We Walk for Them online at http://www.firstgiving.com/missfoundation/kindness-walk-phoenix-az-2012. Online registration fee includes a t-shirt and free zoo admission. And don't forget to bring your new and/or gently used shoes to the zoo. Drop boxes will be available at the walk check-in.
Walk check-in begins at 6:45 am, and Cameron, Carson and Clayton will officially start the 1.75 walk through the zoo at 7:30 am.
If you would like to donate new or gently used shoes before Mother's Day, please drop off shoes at the Office and Faith and Justice at Brophy College Preparatory at 4701 North Central Avenue, Phoenix, AZ 85012. If you would like to donate to Team Brophy, visit their Team Brophy webpage or send an email to:team(dot)brophy(at)missfoundation(dot)org.
The MISS Foundation is an international nonprofit organization that CARES for families before, during and after the death of a child of any age and from any cause.
For additional walk information, please contact Kathy Sandler at 480-861-7511.
###