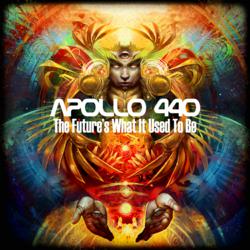 Teaneck, NJ (PRWEB) April 26, 2012
Radikal Records, one of the leading independent labels in dance and electronic music, is proud to announce the return of Liverpool's electronic rock pioneers Noko, Howard and Trevor Grey, better known as Apollo 440 with the North American release of "The Future's What It Used To Be." The album will be available on iTunes, Amazon and at major retailers on Tuesday, June 19th. However, impatient fans don't have to wait for the official street date to hear the album. Radikal Records has already pre-released the album on their website (http://www.radikal.com), where it can be streamed for free and also purchased as a digital download right now.
Apollo 440 burst onto the electronic music scene in the late 90s with their first release, "Electro Glide in Blue." The leading single from that album, "Ain't Talkin' 'bout Dub," which sampled an iconic Van Halen guitar riff and mixed it with drum and bass elements, reached #7 on the UK singles charts. Two years later, their next single "Stop the Rock," a blues rock anthem infused with elements of dub and ambient, went to #10 on the UK singles charts and was featured in the FIFA 2000 video game for Playstation, American films "Saving Silverman," "Gone in 60 Seconds," "Loser" and most recently the Victoria Secrets Fashion TV Special. The group's hi-octane, rock-inspired brand of electronica became widely popular, producing 11 UK Top 40 Singles Chart Hits. Along with their UK contemporaries Prodigy and The Chemical Brothers, Apollo 440 helped to pioneer the Big Beat genre that would become the foundation and inspiration for the current Dub Step movement.
Apollo 440 now returns with the release of their fifth studio album, "The Future's What It Used To Be." The album is the first from the group in almost 10 years, but Apollo 440 pick up right where they left off, with a package that's full of the same kind of high energy, dub-infused electro-rock anthems that made them famous earlier in their career. One of the featured tracks on the album, "A Deeper Dub," is an exciting reworking of the C + C Music Factory's classic "A Deeper Love" and harbors an infectious beat and a captivating chorus similar to past Apollo 440 hits.
Apollo 440 - "The Future's What It Used To Be" Track Listing:
1. Stay Frosty
2. The Future's What It Used To Be
3. Smoke & Mirrors
4. Stealth Cantorum
5. A Deeper Dub
6. Love Is Evil
7. Odessa Dubstep
8. Motorbootee
9. Traumarama
10. Fuzzy Logic
11. Music Don't Die
About Radikal Records: Established in 1990, and based just outside of NYC, Radikal Records is one of the United States' leading independent labels. In business for almost 20 years, they are focused on marketing, promoting, and distributing artists – not only to audiences in the USA, but also on a global basis to partners world-wide. Radikal Records offers artists national distribution through SONY/Red Distribution, electronic distribution through iTunes, eMusic, Amazon and all major downloading services, and other resources including production, artist development, product marketing and licensing opportunities. For more information about the label, visit http://www.radikal.com.