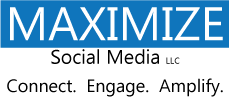 Los Angeles, CA (PRWEB) April 25, 2012
Social media marketing agency Maximize Social Media LLC announced today that it has named Jared Bennett as its Art Director. Bennett is a talented graphic designer and distinguished brand integration specialist. His passion for graphic design and business led him to join the Maximize team, where he utilizes his artistic talents, creative marketing techniques and an understanding of sales to help build successful strategies for Maximize's clients.
"We're excited to have Jared on our team and our clients are already thrilled with his work. He does a wonderful job of integrating technology with respect for the humanities, so we are able to achieve solid results for our clients while at the same time maintaining the artistic style that's so important for consumers," said Chris McLaughlin, CEO of Maximize Social Media.
Bennett's talents and abilities began from an early age, were he was mentored by a distinguished graphic artist at Southeastern University as well as the National Association of Photoshop Professionals (NAPP) in Tampa, Fla. From there, he expanded his knowledge into many web-based areas such as WordPress, XHTML, and CSS, working to serve both local and international clients. His keen eye for both art and business lead him to into the printing press industry, building corporate websites, and assisting in publishing online booklets and magazines. Bennett quickly grew a passion to help companies monetize their products and services through the web.
"I'm excited about joining the leading social media agency for midsized businesses. Together we're going to achieve great things for our clients," said Bennett.
About Maximize Social Media LLC
Maximize Social Media (http://www.maximizesocialmedia.com) is a leading provider of social media management services for clients in over 40 different verticals. With offices in Florida and Los Angeles, Maximize provides social media consulting and Facebook advertising management for clients in English speaking countries such as the US, Canada, and Australia. The company also features social media management outsourcing for busy social media mangers looking for additional assistance on a white label basis.