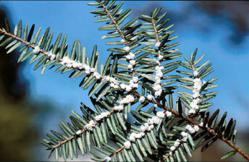 Well over half of
the hemlocks I see have a major infestation. This pest can kill a mature hemlock in 3-6 years if left untreated.
Portsmouth, NH (PRWEB) April 26, 2012
Multiple invasive pests have invaded the northeast and are wreaking havoc on the tree population. Two of these pests include the winter moth and the hemlock woolly adelgid.
The invasive and potentially devastating winter moth, which has affected forests in New Hampshire and Massachusetts for years, has officially debuted in Maine. Confirmed in the Cumberland county town of Harpswell last month, the moth currently contaminates a 400 acre stretch. The state's forest service and leading scientists are doing all in their power to snuff out the moth's presence while the contaminated area is still manageable. A native species of Europe, the moth was found in Nova Scotia in the 1950s, and has since invaded tens of thousands of acres in Massachusetts and New Hampshire. Maine is just the latest New England state to be hit by this dangerous insect. They will feed on virtually any tree or shrub.
The hemlock woolly adelgid is a small, aphid-like insect that is killing hemlock trees up and down the east coast. Native to Asia, the pest was first reported on the east coast in Virginia in 1951, and has been working its way north ever since. The mild winter weather in Massachusetts, New Hampshire and Maine has encouraged the spread of the hemlock woolly adelgid, and it's threatening more trees than ever. "This is the worst year I've seen yet," stated Dan Mello, certified arborist and owner of Seacoast Tree Care in New Hampshire. "We've seen this pest moving into our region, and in this year alone, well over half of the hemlocks I see have a major infestation. This pest can kill a mature hemlock in 3-6 years if left untreated."
Seacoast Tree Care has established a tree service and preservation blog with information on pests that threaten local trees in order to help the Seacoast communities better understand what pests are a direct threat to the local environment. "We can fight these infestations and threats much more effectively if our community has access to good information. The blog aims to help educate everyone locally about the best way to fight against the winter moth, the wooly adelgid and other pests. What works well in other parts of the country may not work well here, and we want to make sure the Seacoast has accurate information."
Tree service options for localized infestations include topical sprays and soil injections. "Topical sprays, such as horticultural oils and insecticidal soaps, are effective when the entire tree can be sprayed and saturated, ensuring the insecticide comes in contact with the adelgid," stated Mello. "For larger trees, soil injection with a systemic insecticide may be a better alternative. The treatment options really need to be assessed on an individual basis, and knowledge of environmentally sensitive areas is extremely important to keep from harming wildlife."
For forested infestations, the introduction of biological predators is the long term solution, and a number of predators that are known to feed exclusively on the winter moth and the woolly adelgid are slowly being introduced. "We believe the use of biological predators offers a great potential long-term solution," stated Mello. "But we need to treat and protect our local trees or they will be gone forever. It's a resource we can't afford to lose."
About Seacoast Tree Care
Led by a certified arborist and staffed with a team of professionals, Seacoast Tree Care is recognized as greater seacoast New Hampshire's leading full service tree care provider. Expert prevention and maintenance of all tree and shrub species has created an unsurpassed reputation with discerning homeowners, commercial clients and landscaping professionals. http://www.seacoasttreecare.com
Additional information about invasive species specific to the northeast is available from the United States Forest Service at http://www.na.fs.fed.us/fhp