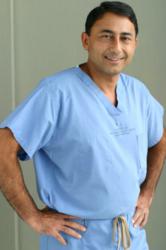 "Dr. Khanna did a fantastic job, the guy is amazing!" - Kevin Sorbo
Los Angeles, Ca (PRWEB) April 26, 2012
Renowned and respected actor Kevin Sorbo is best known for his role in the hit television series Hercules as well as the recently buzzed about film, Soul Surfer. Kevin Sorbo has acted professionally for over twenty years and has gained critically acclaimed success through his acting. Although most Americans are familiar with Kevin and his popular feature films many are not aware that he had been suffering from the eye disorder known as, pterygium.
Pterygium is a common eye aliment, which acts as an unnatural growth in the eye. The texture of the growth is similar to that of a piece of skin or a callous growing on to the cornea of the eye. The causes of pterygium can vary from; sun radiation, UV light, dust, and also genetic dispositions. Treatment is necessary for pterygium patients and if no action is taken, the pterygium will continue to grow, completely cover the surface of the eye, and eventually cause blindness. Not only will it ultimately cause blindness if left untreated, but pterygium also negatively affects vision. The pterygium itself can be compared to a piece of string dangling in the eye, unnaturally pulling and pushing the eye, this causes irregular refraction and poor vision.
As an actor, Kevin's vision is a necessity. Actors are responsible for reading and memorizing lines, and trying to read small print from a teleprompter can be quite difficult for someone suffering from pterygium. Kevin came to realize that his vision was becoming a major problem and he discovered that surgery was the best way to treat his condition and improve his vision. Kevin was introduced to Board certified corneal surgeon, and renowned ophthalmologist, Dr. Rajesh Khanna M.D. Dr. Khanna has successfully treated thousands of patients suffering from pterygium and was confident that he could drastically improve Kevin's vision.
After surgery with Dr. Khanna, Kevin cannot stop boosting about his new vision. He says that his pterygium growth was "discolored, yellow, red and very unattractive" and caused by him not wearing sunglasses when he was outside." Kevin is now very happy with his vision and says that Dr. Khanna is "phenomenal, great, and amazing!" Kevin says he should have had the surgery years ago, he wanted to get it done, he needed to get it done, and he is extremely happy with the results.
Khanna has used his skill and expertise to restore the vision of world-class athletes and well-known celebrities around the world. He won the Ventura County Star's Reader's Choice Award for Best LASIK Surgeon for four consecutive years, from 2009-2012. Voted Best LASIK Surgeon in 2009 by the Los Angeles Daily News, he's also been named as the team ophthalmologist for the Men's USA Water Polo Team. An internationally acclaimed vision specialist and surgeon, Khanna is providing a cure for those suffering with keratoconus through Intacs rings segments, cornea transplants and cornea cross linkage. The procedures offer new hope and vision restoration for those who previously had no other long-term options, and patients have peace of mind knowing the treatment is performed by a pioneer and innovator in the field of sight problems.
Khanna can be reached by phone at 805-230-2126 or via email with the convenient form on the website. For more information, visit the website at http://www.thekeratoconus.com.
About Rajesh RAJESH Khanna
Dr. Rajesh Khanna is an internationally recognized LASIK and refractive vision care specialist, and the team ophthalmologist for the Men's USA Water Polo Team. He graduated among the top of his class in medical school and is a member of the UCLA faculty. Utilizing his skills to instruct a new generation of eye surgeons on the safest and most effective techniques and procedures, he pioneered many of today's techniques in LASIK and refractive surgery. Khanna invented a variety of instruments to aid in surgeries and speaks at a myriad of national and international professional venues each year. He participates in refractive surgery conferences and wet labs worldwide. Featured extensively in print and broadcast media, he's received prestigious awards and honors from the World Health Organization. He's a member of the American Medical Association, the prestigious American Academy of Ophthalmology and the American Society of Cataract and Refractive Surgery, and certified by the American Board of Ophthalmology.