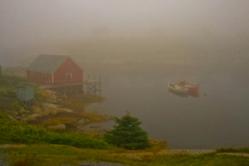 Portal, Arizona (PRWEB) April 27, 2012
Naturalist Journeys, an adventure travel company based in Portal, Arizona, announces an August 18-26, 2012 tour to Nova Scotia which features an innovative combination of culture and nature. With whale-watching, land and sea birds, colorful Acadian history, signature lighthouses, world-record tides, delicious seafood and great opportunities for travel photography, the maritime province of Nova Scotia has much to offer.
Participants, traveling with knowledgeable guides, will visit Grand Pré National Historic Site of Canada and Annapolis Royal, the oldest continuous European settlement in North America, north of St. Augustine, Florida. The area celebrated its 400th anniversary in 2004 with some 250,000 people of Acadian descent. The history of the Acadian people is immortalized in Henry Wadsworth Longfellow's poem Evangeline.
Three nights are spent on Brier Island, a 3km by 7km island located southwest of Digby. As the westernmost point in Nova Scotia, the island is considered a Canadian Important Bird Area, with 331 bird species recorded. In August the southward bird migration is at its peak, and participants can observe a bird-banding project that occurs here, marking raptors and songbirds that use the island's lush woodlands to rest and refuel. Boat trips are scheduled so participants can explore the waters immediately offshore from Brier Island, a rich feeding ground for resident and migrant seabirds and home to Humpback, Southern Right and other species of whales. The numbers of mixed flocks of Red-necked and Red phalaropes may regularly number in the millions. Other marine species seen in large numbers include shearwaters, kittiwakes and alcids. Greater Shearwaters are common in August particularly, with 20,000 recorded in the 1997.
The Bay of Fundy, with the highest tides in the world (up 56 feet of variation between low and high tide!) is a sight to behold, as boats with specially-designed hulls rest in the dirt or rise up high every day. Currently, there is an effort to use these immense tides for electric power. These sights, combined with whale watching and viewing seabirds such as Atlantic Puffins, make the area a fascinating place to visit. The rugged coastline with scenic villages like Peggy's Cove and Lunenburg, provide opportunities to learn about the maritime history of the area while relishing the diverse flora and fauna. Last year's inaugural tour participants also relished sampling Nova Scotia's fresh, local foods.
Water is a near-constant presence throughout the journey, beginning in Halifax and winding along the shoreline to magnificent Cape Breton Island. The interior is fascinating also, with chances at glimpsing Moose and picking berries along the way. The Cabot Trail is world-famous and provides astonishing views as it winds its way around the Island. Historic lighthouses are another highlight, and will provide superb photographic opportunities.
Naturalist Journeys is offering Nova Scotia Sampler: Birds, Whales, and History from August 18-26, 2012. The 9-day tour begins and ends in Halifax. Find a full itinerary and tour details on their website.