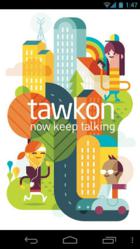 Amsterdam, Netherlands (PRWEB) April 26, 2012
tawkon, the company setting the standard for responsible mobile device usage, today launched an all-new Android app designed to help prevent overexposure to electromagnetic radiation from cell phones. The app offers a streamlined, helpful user experience with the ability to track and monitor the health of friends and family. tawkon is immediately available for free in the Google Play store.
tawkon tracks radiation exposure levels from Android smartphones and tells the user what immediate and simple changes to make to lower exposure. This powerful app encourages a healthy mobile lifestyle. These alerts, usage, and monitoring tools include as well parental control feature for families.
"The cellular phone is here to stay so in the face of scientific uncertainty we want to give people the ability to make informed decisions about preventative measures for a healthier lifestyle," said Gil Friedlander, CEO of tawkon. "Using tawkon consistently, you can virtually eliminate exposure to unwanted radiation spikes."
With patent pending technology, tawkon calculates the handset's radiation level and can thereby estimate exposure levels. Exposure can be affected by such variables as usage minutes, handset placement, distance to the cell phone towers, and intensity of the cellular signal. The application's technology has been validated in an FCC certified U.S.-based RF (Radio Frequency) lab.
Site - http://www.tawkon.com/
App - https://play.google.com/store/apps/details?id=com.tawkon