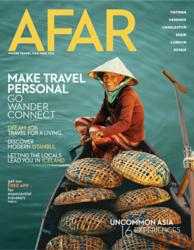 What really excites us is the way our community embraces Highlights. There is real interaction...people are connecting with each other and with AFAR in a really personal way and that's great to see." Davina Baum, Director of Digital Content, AFAR
San Francisco, CA (PRWEB) April 25, 2012
With the new AFAR mobile app, users can do much more than offer up a pretty picture: they can share, curate and discover travel stories with a passionate community of experiential travelers, making connections and enriching others' experiences as well as their own. Unlike traditional photo-sharing platforms, the AFAR mobile app enables users to capture the essence of a place by telling a story – a Highlight, which is a photo with a short description geo-tagged by location – that not only provides useful information for other travelers, but brings the experience to life. While status updates, check-ins, and photo shares are fleeting and have less depth, Highlights are inherently useful because of the rich experiences they represent. Mobile users can now easily browse other Highlights relevant to their location or interests, post comments, like Highlights, and save Highlights for easy access later. This latest version, now available for iPhone and Android, also includes several performance updates.
To celebrate the app's agility, AFAR launched a six-week contest: CATCH!, challenging users to have fun with the app according to rotating themes, including Delicious, Lost, Markets and Unlikely Art.
Traffic on the site jumped 44% as users connected with other travelers, applauded entries, cheered each other on. Traffic from social networks was up 34%, and more than 1100 Highlights were created, half using the mobile app. The grand prize, won by Colin Roohan from Tulsa, Oklahoma, is a trip for two to India courtesy of Taj Hotels Resorts and Palaces and SWISS International Air Lines.
"What really excited us about CATCH!," says Davina Baum, Director of Digital Content at AFAR, "is the way our community embraced Highlights – their own entries as well as those of other contestants. There was real interaction and celebration all through the contest. People were connecting with each other and with AFAR in a really personal way and that was great to see. Later this spring, we're introducing Wanderlists, a new way to collect highlights as customized lists. We know they're going to have fun with that!"
MORE on AFAR.com
Over 6,000 Highlights have been posted to date from 1,712 Cities in 189 countries. AFAR.com continues to grow, with 18,238 registered travelers living in 3,207 cities in 147 countries around the world. The site has had 283,000 unique visitors from 203 countries this past year and travelers have asked 7,981 questions and received 23,001 answers, all of which can all be browsed on the site.
ABOUT AFAR MEDIA
AFAR is the multi-platform travel media brand that inspires and guides those who travel the world to connect with its people, experience their cultures, and understand their perspectives. Headquartered in San Francisco, with an office in New York City, the company launched in 2009. Its platforms include the award-winning AFAR magazine, AFAR.com, the AFAR mobile app, the non-profit AFAR Foundation and immersive travel series AFAR Experiences.
Contact: Shelley Kieran, shelley(at)afar(dot)com, 415.814.1394