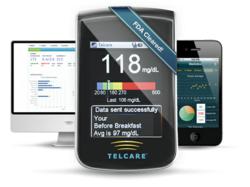 "Telcare has brought the monitoring of diabetes into the 21st century..." - Dr. Jonathan Javitt
Bethesda, MD (PRWEB) April 25, 2012
Gartner Research has named Telcare, Inc., and its FDA-cleared Diabetes Blood Glucose Monitoring System, one of its Cool Vendors among Healthcare Information Technology Providers for 2012. The well-respected IT analysis firm's annual "Cool Vendor" list spotlights companies delivering what Gartner researchers perceive to be "disruptive technologies" -- potentially game-changing innovations in their space.
Gartner's analyst Wes Rishel and colleagues wrote, "While prognosticators have waxed eloquent on the potential value of Web-connected glucometers, Telcare has been doing it and getting the technology right. ...Choosing the cellular data network is right because it is invisible to the user. ....This is the same technology that made Kindle the book reader that grandma loves. The connected glucometer is no more difficult to use than an unconnected glucometer, and far easier than those that use Bluetooth or cords to connect the device to an intermediate PC."
This year Telcare introduced the first wireless-enabled glucose meter and iPhone app. It allows patients and their caregivers to easily track their blood glucose levels to help manage their diabetes.
"We're honored that Telcare's BGM system has been recognized by Gartner Research," said Dr. Jonathan Javitt, CEO of Telcare, Inc. "Being named to the 'Cool Vendor' list validates the work we've done and it reflects our commitment to transform diabetes care. By incorporating wireless communication, social networking, and best practices in health IT, Telcare has brought the monitoring of diabetes into the 21st century for 28 million Americans, their caregivers, and their loved ones."
Gartner praised Telcare for "getting the technology right," and went on to say, "Telcare designed its website to be a social experience for diabetics, their families or other caregivers. By thinking of the complete system Telcare demonstrated the difference between the starry-eye approaches that technology companies bring to healthcare and the nuanced approach that it takes to develop effective solutions."
About Telcare
Telcare, Inc. uses cellular technology and social networking to bridge the last mile between patients with diabetes, their caregivers, and their families in order to transform the care of chronic illness. Telcare has been awarded First Place prizes in the categories of Health, Wellness and Fitness Application and Health Enterprise Solution by CTIA, been named the MEDTEC startup of the year, and been named one of the top 12 products of 2012 by the Edison Awards. In addition to directly reducing cost of care by improving outcomes and preventing complications, Telcare creates an ecosystem of care that enables people with diabetes to better care for their condition. For more information, visit http://www.telcare.com.
About Gartner
Gartner, Inc. is the world's leading information technology research and advisory company. Gartner delivers the technology-related insight necessary for its clients to make the right decisions, every day. From CIOs and senior IT leaders in corporations and government agencies, to business leaders in high-tech and telecom enterprises and professional services firms, to technology investors, Gartner is a valuable partner to 60,000 clients in 11,500 distinct organizations. Through the resources of Gartner Research, Gartner Executive Programs, Gartner Consulting and Gartner Events, Gartner works with every client to research, analyze and interpret the business of IT within the context of their individual role. Founded in 1979, Gartner is headquartered in Stamford, Connecticut, U.S.A., and has 4,500 associates, including 1,250 research analysts and consultants, and clients in 85 countries. For more information, visit http://www.gartner.com.