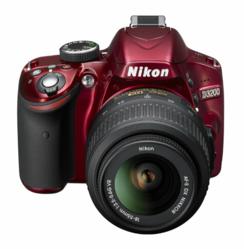 Adorama will fill pre-launch orders for the Nikon D3200 on a first-come, first-served basis, so don't wait.
New York, NY (PRWEB) April 26, 2012
Nikon's newest DSLR, the Nikon D3200, breaks new ground in digital photography. The camera packs higher resolution—an incredible 24.2 megapixels—than any entry-level DSLR in history. For less than $700, amateur photographers can get an HD DSLR that offers image quality on par with professional-level DSLRs. The amazing Nikon D3200 is now available for pre-order at Adorama.com, where amateurs and pros alike get the most competitive pricing in the camera business. Interested photographers shouldn't wait, though, because Adorama will fill orders for this sure-to-be-a-hit camera on a first-come, first-served basis.
The unprecedented image quality delivered by the Nikon D3200 is due in large part to its 24.2-megapixel DX-format CMOS sensor, aided by Nikon EXPEED 3 Image Processing. The camera delivers equally powerful motion-capture capabilities, shooting Full HD, 1080p video with smooth, full-time autofocus—a rarity among HD DSLRs, many of which must be focused manually in video mode. Unlike competing models, the Nikon D3200's video mode also allows manual exposure control and can deliver stereo sound via the camera's microphone jack.
Features like those make the Nikon D3200 as good a DSLR for serious amateur photographers as it is for soccer moms. And this compact, lightweight camera excels at capturing soccer or any other fast-action subject, with its 4 frames-per-second shooting speed, 11-point 3D-Tracking autofocus, shutter speeds up to 1/4000th second, and a standard sensitivity range of ISO 100-6400. That range, which is expandable to ISO 12,800, makes the camera equally adept at capturing high-quality images in very low light without flash.
Beginning photographers or snapshooters moving up to a DSLR from compact point-and-shoots should have no trouble adjusting to the Nikon D3200. The acclaimed Nikon Intuitive Guide Mode walks users through key camera functions and settings for both still photography and video. And the optional new Nikon WU-1a Wireless Mobile Adapter provides wireless connectivity between the Nikon D3200 and mobile devices, allowing images to be sent from the camera to smartphones and tablets. Photographers can even use their mobile devices to preview images before shooting and to control the camera remotely, though viewing on the Nikon D3200's 3-inch, 921,000-dot LCD screen is vivid and sharp.
Adorama will be offering the Nikon D3200 in both black and red at Adorama.com. Its $699.95 price includes the Nikon AF-S DX Nikkor 18-55mm f/3.5-5.6G VR, a wide-to-tele zoom that has a 35mm-equivalent range of 28-83mm and features built-in Nikon Vibration Reduction for sharp shots at slower shutter speeds. The Nikon WU-1a Wireless Mobile Adapter can be pre-ordered as a separate accessory at a price of $59.95.
About Adorama: As one of the nation's largest photo retail and mail order suppliers, Adorama has served professional and amateur photographers for 33 years. It has recently expanded its service to the community through online photo education (the Adorama Learning Center and Adorama TV) and on-site workshops, programs that make it a unique industry resource. Adorama's vast product offerings now encompass home entertainment, mobile computing, and professional audio, while its services include a Professional Imaging Department, an in-house photo lab (AdoramaPix), and pro equipment rental (Adorama Rental Company). Knowledgeable staff and unbeatable pricing make Adorama a one-stop shop for all your photo and technology needs. Visit http://www.adorama.com.