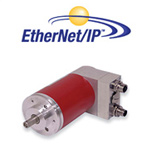 (PRWEB) April 26, 2012
Ethernet Industrial Protocol or EtherNet/IP is currently one of the most in-demand and proven industrial Ethernet network solutions available for manufacturing automation. EtherNet/IP uses CIP (Common Industrial Protocol) and offers the tools needed to use standardized Ethernet technology for production applications with Internet and Enterprise-Connectivity. Data is available anytime and anywhere. With the introduction of the new CEx58 Series of absolute encoders, TR Electronic continues to meet the growing demand for this popular technology.
EtherNet/IP treats network devices as a series of objects and uses CIP to access these objects. CIP offers a wide range of messages and services to capture production automation data. This includes information for the controller, functional security, synchronization, motion and configuration among others. CIP is media independent and offers users a dependable communication architecture throughout the whole production process. Users will benefit from the numerous advantages of open networks, while time automation investments in future system updates remain protected.
In 2011, TR Electronic saw a 110% increase in EtherNet/IP sales over 2010. This is due to the global acceptance of Ethernet products as well as the openness and adaptableness of EtherNet/IP and led to the growth of products featuring the EtherNet/IP interface. EtherNet/IP is highly flexible and can be used in many applications. It is commonly used in a variety of industrial automation settings as well as time-critical applications, safety, motion, drives, Input/Output and time synchronization applications. EtherNet/IP also supports multiple configuration topologies including star, ring and linear. TCP/IP is used for messaging and information exchange and UDP/IP is used for Input/Output messaging for control functions. This combination of familiar and accepted technologies provides the support needed for information exchange as well as to control applications.
With the introduction of the new CEx58 Series of absolute encoders, TR Electronic continues to provide a wide range of high quality products that use the EtherNet/IP interface. The new CEx58 Series features an integrated switch in a compact housing, a modular construction for mechanical customizations and extensive parameter configurations via the network. The CEx58 Series has an optional working temperature of -20 degrees Celsius to +70 degrees Celsius and an IP 65 protection class.
TR Electronic's existing EtherNet/IP product line includes absolute encoders, linear sensors (aluminum profile and stainless steel rod), and linear position lasers. Absolute encoders (CEV 65mm, CES 65mm and CEK 65mm Series) are traditional and extremely flexible. They are available with a solid, hollow or blind shaft or with integrated claw coupling. Linear sensors (LMP30 Bus, LP46, LA46 and LA66K Series) are parameterizable, feature a non-contact, wear-free design and are ideal for use in injection molding and packaging machines. Aluminum profile linear sensors are designed with an extra flat aluminum casing and are easy to mount while stainless steel rod linear sensors are perfect for installation in hydraulic cylinders and hydraulic presses. Linear position lasers (LE200 or Water-Cooled LE200) feature a robust design and are programmable, making them ideal for sensing targets and for use in dusty or contaminated environments.
TR Electronic has had the opportunity to work on many installations of EtherNet/IP with customers and offers continuing support on all EtherNet/IP products. The advantage of having factory floor data all the way up to the enterprise level, as well as the ability to conduct remote diagnostics from around the world is what makes EtherNet/IP such a complete and popular interface.
For additional information on TR Electronic's motion solutions visit http://www.trelectronic.com. To speak with any member of their Customer Care Team, please call 1-800-265-9483 or email customercare(at)trelectronic(dot)com.
For a press kit or media contact, please contact
Lindsay Ocovich
Marketing Specialist
TR Electronic North America
(519) 452-1999
locovich(at)trelectronic(dot)com
Matthew Scott, P.Eng, MBA, CMA
Director of Operations and Strategic Development
TR Electronic North America
(519) 452-1999
mscott(at)trelectronic(dot)com