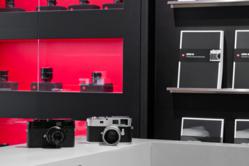 We are incredibly excited to work with the Leica Camera company, and are thrilled to take part in bringing this luxury brand to North America for the first time.

- Jeff Pollak,
managing partner, Streetsense
Washington, DC (PRWEB) April 26, 2012
Streetsense, a Bethesda, MD based integrated brokerage, design, branding and development company, is delighted to announce the opening of the Leica Store Washington DC. Marking the debut of the luxury German camera and sport optics brand's North American retail concept, the Leica Store Washington DC is located within a space identified and brokered by Streetsense in the nation's capital.
Located at 977 F St, NW, brokered by Streetsense agents Jeff Pollak and Rich Amsellem and situated within a property managed by Akridge Real Estate, the sleek new retail space provides the ideal positioning for the brand's first location in the U.S., deep in the heart of the District's historic Penn Quarter. The Leica Store Washington DC prominently showcases the iconic retailer's full line of industry leading photography and sport optics products, complete with a photography gallery and demonstrations within a studio powered by the innovative Leica S-System. Additionally, the space offers a perfect setting for in-house workshops suited for beginners, enthusiasts and professionals alike through the brand's signature Leica Akademie.
"We are incredibly excited to work with the Leica Camera company, and are thrilled to take part in bringing this luxury brand to North America for the first time, particularly in such a thriving and diverse marketplace," said Jeff Pollak, managing partner for Streetsense.
About Streetsense
Streetsense is an integrated brokerage, design, branding, and development company specializing in restaurants, hospitality, retail and real estate. Established in 2001, Streetsense is the premiere, and only truly full-service, retail-centric company in the real estate market today. Its powerful platform provides clients with an extremely wide range of services, including master planning, architecture, retail design, retail brokerage, development, and a full-service marketing studio that includes branding, graphic design, publicity, social media outreach, and more. Clients include well-known brands such as Chipotle, Starbucks, Maggiano's Little Italy, Plow & Hearth, and Limited Brands, as well as real estate developers that include the The JBG Companies, Vornado/Charles E. Smith, and Akridge. Recent projects include interiors for Matchbox in Rockville, MD (plus a ground-up building pad site), Pi Pizzeria in Washington, D.C., Chipotle's new concept Shophouse in Washington, D.C., and Café Caturra in Arlington, VA; office space design for Living Social in Washington, D.C.; and development of The Shoppes at Arts District, a 36,000 square foot specialty center will be the focal point of Arts District Hyattsville (MD). For more information, please visit http://www.streetsense.com
About Leica Camera:
Leica represents a union of craftsmanship, technology and experience. It is at once an extension of art, knowledge and philosophy, providing a state-of-the-art optical experience in a precision, hand-made photographic instrument. Leica Camera has a simple mission: to provide users with an incomparable experience, an instrument that defines an unsurpassed heritage and sets a standard of excellence for the industry to meet.