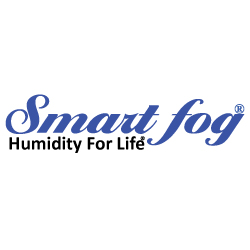 Smart Fog water droplet does not moisten exposed surfaces
RENO, NV (PRWEB) April 30, 2012
Smart Fog, Inc. announced this week a new water droplet enhancement to the patented ES100 – commercial and industrial printing humidification system.
Smart Fog printing humidification system eliminates paper curl, paper cracking, static build-up, web-breaks and mis-register by maintaining precise even humidity throughout the printing and paper storage facility. This increases operation efficiency by reducing machine downtime.
The key to the new water droplet is the engineered spacing between the air and water in addition, to the high oxygen content. The high oxygen content ensures the droplet will evaporate directly into the air without loss in altitude. Since water evaporates only from the surface of the droplet, Smart Fog has engineered a droplet with lowest possible volume and maximum surface area. Smart Fog has found 4.2 micron droplets to be most aerodynamic and able to distribute the humidity evenly throughout space Smart Fog has achieved 100% evaporation rate, which equates to 100% water efficiency.
"In the development of Smart Fog technologies we put water and energy conservation a top priority. All our systems are 100% water efficient and provide 90-99% energy savings in when comparing with similar droplet size systems" explains Ido Goldstein, director at Smart Fog.
Smart Fog designs and manufactures non-wetting commercial humidification systems, which operate non-stop 24/7. Smart Fog systems have no cleaning or periodic maintenance requirements. Simple 10-minute change of the recyclable air and water filter elements every two years support the system operating at maximum efficiency. In addition, Smart Fog offers economic and complete extended warranty plans to provide a complete long-term protection to the investment.
"Smart Fog specializes in non-wetting commercial humidification," says Goldstein. "Every droplet evaporates directly into the air and does not dampen any exposed surface."
About Smart Fog
In business since 1980, Smart Fog Inc. is the recognized world leader in the industrial and commercial humidification systems' industry. And, all products are manufactured in the U.S.A.