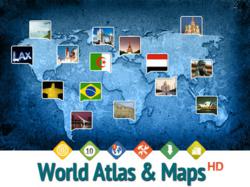 World Atlas and Maps (HD) has been ranked in the top 5 apps in the iTunes App Store's reference section, and its average rating is 3.5 stars
San Jose, CA (PRWEB) April 25, 2012
MapsofWorld.com's World Atlas application, available for iOS and Android, has recently surpassed one million downloads. Launched just over one year ago, with updates released throughout the year, the app steadily reached this milestone with its paid and free versions. The app offers users a pocket-sized but complete world atlas with many unique features.
World Atlas has been showcased on app review sites including Appmodo.com and Topapps.com. Designed by a team of cartographers, World Atlas features high quality and high resolution maps of the world. Unlike other atlases applications, World Atlas offers maps of individual countries. World Atlas is also the only World Atlas app on iPad to function offline, except for weather and city-level zoom.
Other features that separate World Atlas from other atlas apps includes the ability to print, share, and save maps. A simple interface lets users pinch to zoom, search the maps on various parameters such as language, and a drop pin feature to pinpoint places on the map. Additionally, the app includes country profiles with information like the flag, area, population, economy, language, and more about each country.
World Atlas is available on the iOS platform in both free and paid versions (Lite and HD), and on the Android platform in HD. World Atlas and Maps (HD) has been ranked in the top 5 apps in the iTunes App Store's reference section, and its average rating is 3.5 stars.
MapsofWorld.com, a leading map and information portal, has a portfolio that includes 19 mobile apps. A combination of paid and free apps, MapsofWorld.com has created apps for atlases, quizzes, greeting cards, educational tools, and system utilities like file managers, and more.
About the company:
MapsofWorld.com is a multilingual portal offering high-quality maps and information across geographies and platforms. With special focus on educational content, the portal has thematic as well as interactive maps on all major platforms: Web, iPhone, iPad, iPod, and Android. Other services offered are custom mapping, content digitization, and the online map store.
For more information, please contact:
MapXL Inc.
10 S. Third Street, Suite 310,
San Jose, CA 95113