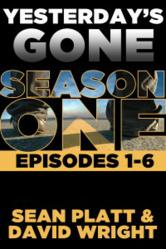 "We wanted to create something that would be a killer TV show, but in book form," said Platt. "We wanted to create rich characters and worlds that readers would love. Serializing allows us more creative freedom and a wider canvas to tell our story."
Cincinnati, OH (PRWEB) April 25, 2012
"One hundred reviews is a significant milestone for the book," said Platt. "As a self published author, customer reviews are especially important. Reviews let you know when you've created something people are connecting with. That so many people were compelled enough to leave a review means something to us."
Fantastic word of mouth and sales of the first two seasons of the serial have catapulted the indie authors to success, allowing them to live the dream of writing fiction full-time. The "Yesterday's Gone" series of books has garnered more than 230 five star reviews in total.
"We weren't even sure there would be a market for serials," said Wright of their start last summer. "We've always loved the format, but it had fallen out of fashion in recent years. When Amazon's Kindle ignited the digital publishing revolution, we knew the time was right to try serializing via eBooks," said Wright.
The writing duo are publishing a book per week in 2012, including the young adult serial "ForNevermore," and the upcoming sci-fi horror serial "WhiteSpace." They're kicking off the third season of "Yesterday's Gone" in June.
So far, "Yesterday's Gone" has earned reader comparisons to Stephen King's "The Stand" and TV shows such as "LOST" and "The Walking Dead."
It should come as little surprise then when Platt and Wright cite Stephen King's "The Green Mile" and their favorite television serials such as "LOST," "The Walking Dead," "Fringe," "Breaking Bad," "The Wire," and "Battlestar Galactica," for inspiring their storytelling methods.
"We wanted to create something that would be a killer TV show, but in book form," said Platt. "We wanted to create rich characters and worlds that readers would love. Serializing allows us more creative freedom and a wider canvas to tell our story."
Platt and Wright carry the TV theme into how the books are offered, also, with books being labeled as "episodes" which range from 18,000 to 24,000 words each, and each "season" consisting of six episodes. The stories are plotted so the action rises as it would in a TV show, building up to cliffhangers to end each episode.
"Yesterday's Gone" tells the story of a group of people who wake up to find that most of the world's population has mysteriously vanished.
"Episode One" of "Yesterday's Gone" is available for free at the following locations:
Amazon – http://www.amazon.com/dp/B005FHO9AU/
Barnes & Noble – http://www.barnesandnoble.com/w/yesterdays-gone-sean-platt/1105384097
Apple – http://itunes.apple.com/us/book/yesterdays-gone-episode-1/id462807689?mt=11
Smashwords – https://www.smashwords.com/books/view/82681