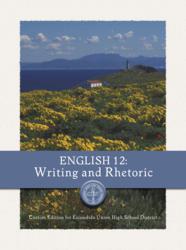 Escondido, California (PRWEB) April 26, 2012
Seniors at Escondido Union High School District are learning literature in a whole new way this year with customized texts developed by school leaders and the education company Pearson. The new materials combine a variety of literary selections to promote critical thinking and encourage students to connect more directly with the reading passages.
The new curriculum , English 12 Writing & Rhetoric, reflects the district's "Essential Questions" methodology for teaching literature to its approximately 450 twelfth graders. A strategic student-centric question, which does not have one right answer, is a core element of each chapter. These questions engender debate, point to the big ideas of a subject and help students make sense of important literary concepts. The customized texts help Escondido's teachers encourage their students to understand the major themes within literature and the applicability of those texts to the students' lives.
Escondido Union High School District opted for the customized texts after learning about Pearson's work on similar successful publications for nearby school districts. A team of EUHSD teachers spent approximately one year working with Pearson to select appropriate materials for inclusion while determining which themes and key questions would be included.
Escondido's new approach to the course materials fits with the district's overarching goal of bolstering academic performance among high school seniors as part of its college preparatory language arts course. The course adheres to the new Common Core State Standards, rigorous academic standards recently adopted in California and 44 other states and U.S. territories.
Ruth Hellams, Director of Curriculum & Professional Development at EUHSD, said, "Our preliminary feedback from students shows that they really like this approach to learning, and we now have a pass rate of 90 percent for this course."
ABOUT ESCONDIDO UNION HIGH SCHOOL DISTRICT
Located in Escondido, California, EUHSD has been serving the high school and adult education students of our community since 1894. With a long tradition of excellence, our focus will always be on the success of our students. Through the hard work of our dedicated administrators, teachers, staff, parents and alumni, EUHSD is committed to extending this tradition well into the future. http://www.euhsd.k12.ca.us/euhsd/site/default.asp
ABOUT PEARSON
Pearson, the world's leading learning company, has global reach and market-leading businesses in education, business information and consumer publishing (NYSE: PSO).
To learn more about how schools are customizing their curricular materials with Pearson, visit http://www.pearsonlearningsolutions.com/school.
Media Contact: Susan Aspey, susan.aspey(at)pearson(dot)com or (800) 745-8489