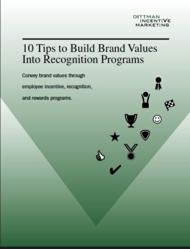 Key finding: Drive behaviors toward brand values through employee incentive, recognition, and rewards programs.
New Brunswick, NJ (PRWEB) April 27, 2012
Building a corporate culture around brand values is critical to the success of any company. Leaders want employees at every level to embrace the brand values and understand how their roles help make the corporate vision and mission actionable. Likewise, employees must understand how their behaviors help deliver on the brand promise to the customer.
A large part of designing an employee incentive, rewards, and recognition program is focused on productivity, compensation, and profitability. An equal part of the strategy, however, is centered in how these initiatives can tie back to the core messages that are integral to business values and brand promise. In the free, downloadable white paper, Dittman highlights 10 popular brand values, how they are supported through incentive, rewards, and recognition programs, and some of the communications ideas that can help build more creative, effective, and memorable programs.
10 Tips to Build Brand Values Into Recognition Programs.
These 10 tips to build brand values are augmented in the 6-page white paper:
1) Innovation requires that people are engaged beyond their actual job descriptions, goals, and daily activities.
2) Teamwork recognition programs can be used as a strategic business component to drive performance, setting divisions and regions to compete.
3) An organization's customer-focused culture requires employees to be proactive in engaging customers and ensuring their satisfaction, almost anticipating issues before they arise.
4) When holding employees in a position of esteem or honor, use a "Winner's Circle" to talk about the best practices of top performers.
5) A company can support their message of quality by being certain that the rewards presented to employees for their achievements are held to the same quality standards.
6) Recognizing achievers in safety (teams or individuals) helps raise awareness of an organization's safety culture and reminds employees that safety is synonymous with more than just risk — it can also be synonymous with rewards.
7) If growth is a core value of the company, look for solutions that recognize achievements in sales, referrals, ideas, education and learning, safety, wellness, and kudos from managers and other employees.
8) At companies where winning is a priority, they should look for on-demand Key Performance Indicators to gauge effectiveness and engagement.
9) To create a culture of integrity, actions that portray integrity must be identified and rewarded on the spot.
10) Sustainability of an organization is nourished by engaged people who are sustained by a broad belief within the company that it cares about its people… and caring happens when recognition resonates as being sincere and meaningful.
Conclusion:
Keeping brand values top of mind is difficult when employees are mired in day-to-day work functions. A strategic employee incentive, rewards, and recognition program can be seamlessly interwoven with daily activities to bolster behaviors that add meaning to your performance and culture. The psychology of motivation is an evolving science and art influenced by many factors. Choose a solution provider who is experienced in the strategic planning as well as the implementation and fulfillment of rewards and recognition. When you choose the right partner, you can focus on your brand values and promise so that individual and overall solutions provide meaningful experiences.
About Dittman Incentive Marketing:
For more than 35 years, Dittman Incentive Marketing has been an award-winning leader in providing incentives, recognition and rewards programs to help companies realize immediate ROI in motivating sales people, employees, channel partners, customers, and consumers. Dittman's signature products and services include: TotalPRO® (Performance Recognition Online) – an incentive, recognition and rewards online software solution (SaaS), and Deluxe Group Incentive Travel. For more information, visit http://www.dittmanincentives.com.