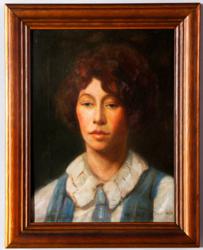 Beverly, Massachusetts (PRWEB) April 25, 2012
The cover lot of the catalog is a rare portrait by the painter, Grant Wood, (1891-1942), famous for his legendary painting, American Gothic, an iconic image of 20th century American art and pop culture. Always interested in art as a child, he later traveled to Europe to study the great 19th century Impressionist masters. After a visit to Germany, he came back to the United States with the idea to paint scenes of places and people he knew, using simple ideas of the old European masters. Unlike many of his contemporaries, Grant was not a prolific painter and it is rare for one of his works comes to auction. His portrait of a young woman wearing a blue jumper, oil on canvas, signed "Grant Wood - 1923" lower right, in it's original frame, is estimated at $100,000-$150.000.
Two paintings by the celebrated Cuban artist Mario Carreno (1913-1999) originally from the Marta Vesa family of Havana, Cuba and then to a private collector in Pennsylvania, include an abstract of a seated woman musician, oil on canvas, signed and dated 1947. A similar abstract titled "Fiesta Nocturna", 1950 sold in 1950 in Madrid, Spain for over $77,000. The abstract is estimated at $60,000-$90,000. The second painting is from his classical period, a brief but important period in the evolution of his style, and is titled "Classic Nude", oil on canvas, signed and dated 1942. There is also a hand written certificate of authenticity from his widow, Ida Carreno Gonzalez and verification by Carlos Martinez, former executive director of the Cuban Museum, Miami, Florida. The nude is estimated at $100,000-$200,000.
Another Cuban painting is by Leopoldo Romanach (Cuban, 1862-1951), "Ballerina", oil on canvas, signed lower right and estimated at $10,000-$15,000. Romanach was a well -known professor of color theory at San Alejandro Academy and was instructor to many of the great early 20th century Cuban artists.
An important contemporary entry in the sale is a collage, depicting the assassination of John Fitzgerald Kennedy, JFK . Composed of collage, alkaline oil paint and images from Time Inc., on cardboard, and inscribed NP MOV 67, (Neo Pop Movement, 1967), the collage measures 39 1/2" x 30". It is especially significant as well, with next year being the 50th anniversary of JFK's assassination. Much research has been done on this poignant piece, and many people in the art world believe the work could be attributed to Robert Rauschenberg (1925-2008), the acclaimed American artist of the 1950's. Rauschenberg, well known for his "Combines" and later for his paintings incorporating found images, photographs, and objects on to a canvas using a silk screening process. This technique was the start, of what is described as the American Pop Art movement. Contemporaries of Ruaschenberg, associated with movement, include Andy Warhol, and Jasper Johns.
European collectors will be interested in a 17th/18th Italian portrait of Christ in ropes, oil on canvas, #388 verso, having a label Mr. Nesmith Loring, Yarmouth Maine, Box 73, also having partial Museum of Fine Art label with red border, in original crate labeled Sweat Memorial Museum, 97 Spring St, Portland, ME, also labeled from R.C. & N.M. Vose, Boston, estimated at $10,000-$15,000 and a painting titled, "The Appeal to Coriolanus", oil on canvas, depicting the legendary Roman leader, Caius Marcius Coriolanus estimated at $10,000-$15,000.
Important American paintings include a Jane Peterson, (American, 1876-1965), "Woman at the Piano", oil on canvas, signed lower left, purchased by Mrs. Lillian Sweenie of Ipswich, MA in the 1960's at the Jane Peterson Estate Auction held by O. Rundle Gilbert Auctioneer, New York, and estimated at $40,000-$80,000, a Reynolds Beal (American, 1867-1951), "Sells Floto Circus", circus scene, crayon and pencil on paper, signed lower left and dated 1928, estimated at $4,000-$6,000 and a Elbridge Wesley Webber (American, 1839-1914), ships in harbor under moonlight, oil on canvas, thought to bring $4,000-$8,000.
Of interest to collectors of Cape Ann scenes, is a marine painting by Aldro Thompson Hibbard(American, 1886-1972), painted in 1972, the last year of his life. It is an early view of docked boats in Gloucester, oil on artist board, signed, by the artist. In February of this year, a record for a Hibbard was achieved, as a Vermont landscape sold for $88,875. This marine painting is estimated at $15,000-$25,000.
From the California impressionist, Granville S. Redmond (American, 1871-1935), is a painting of California poppies, oil on canvas, signed and estimated at $40,000-$60,000.
Previously from the estate of Bruce Hyatt of Thousand Oaks, California, comes an Auguste Rodin (French, 1840-1917), female nude from the Cambodian dancer series, watercolor and pencil on paper, signed lower right and estimated at $12,000-$16,000.
British artists are represented by Sir Alfred Vickers (British, 1786-1868), landscape of a lake scene with mountains and a cottage, oil on canvas, and Sir Jacob Epstein (British, 1880-1959), "Christ in Majesty", both valued at $4,000-$7,000.
With the publicity surrounding the 100 year anniversary of the launching and sinking of the Titanic, 1912, a Brian Coole (British, b. 1939), signed RMS Titanic, off South Hampton, oil on board is sure to catch the attention of Titanic historians everywhere.
Sculpture in the sale includes bronzes by Boston University professor,David Aronson, whose works are found in the Museum of Fine Arts, Boston, Massachusetts and the Museum of Modern Art, New York City. Recipient of a Guggenheim fellowship in 1960, Aronson was elected as an Academician at the National Academy of Design, in New York.
For more information 978-927-2223 or to view the sale online go to http://www.kaminskiauctions.com
Kaminski Auctions, located on the North Shore of Boston, has been serving the New England antiques market for over 25 years as a full service auction house and appraisal service for fine art, antiques and estates.