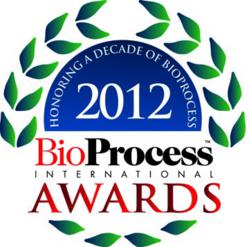 New York, NY (PRWEB) April 26, 2012
BioProcess International (BPI), a business-to-business publication dedicated to delivering cutting-edge information focused on the development and manufacture of biopharmaceuticals and therapeutics, announces an agreement with ATMI LifeSciences (ATMI) to become the exclusive sponsor of the Upstream Processing Pillar of the 2012 BioProcess International Awards – Honoring a Decade of BioProcess.
The 2012 BioProcess International Awards recognize the outstanding products, services, partnerships and people that have had the greatest positive impact on each of the "three pillars" of bioprocessing.
"The 2012 BioProcess International Awards allows the biotech industry to acknowledge and honor its most impactful accomplishments over the past decade," said Brian Caine, BioProcess International's Founder and Publisher "ATMI has been a true leader in developing and enabling upstream processes and technologies over this time, it makes perfect sense they would partner with BPI as the exclusive sponsor of the 2012 Upstream Processing Pillar."
"ATMI is pleased to have this opportunity to interact with influential users of Single-Use Technologies and recognize excellence in achieving processing efficiency from the bioprocessing innovations we strive to provide," said Jeff Craig, ATMI LifeSciences Global Director, Business Development and Marketing.
Four awards will be granted in each of the three pillars of bioprocessing (Upstream Processing, Downstream Processing and Manufacturing):

Technology of the Decade (supplier-based)
Technical Application of the Decade (end-user based)
Collaboration of the Decade
Thought Leader of the Decade
Suggested nomination technologies:
Upstream Processing: fermentation, cell culture, single-use, production platforms, expression systems, outsourcing, validation
Downstream Processing: separation, purification, filtration, stability, virus removal
Manufacturing: forumulation, fill, finish, outsourcing, facility design, logistics, global distribution, international production
About BioProcess International
BioProcess International is part of the T&F Informa BioScience Group, the leading provider of scientific, technological, and business information to the global life science community.
About ATMI LifeSciences
ATMI LifeSciences provides the Integrity™ line of single-use bioprocessing and fluid-handling solutions to the biopharmaceutical, vaccine and cellular therapy industries. ATMI provides worldwide supply chain security, integratable single-use technologies, integratable units of operation and ongoing innovation to increase process efficiencies for the lifesciences industry. For more information, please visit http://www.atmi.com.
To submit a nomination or request sponsorship information, please visit: http://www.bioprocessintl.com/awards