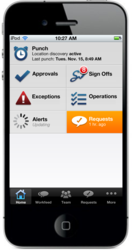 Our goal is to give mobile workers the tools they need to be successful in business, by utilizing the devices and apps that are core to their daily lives.
Toronto, Ontario (PRWEB) April 26, 2012
Vortex Connect has added new social tools to its complete line of mobile workforce management apps, simplifying field staff communications and increasing mobile worker productivity. Using a modified dashboard that mirrors the usability principles of Facebook's mobile app, Vortex apps now allow field staff to perform tasks such as sending alerts to colleagues, tagging workers about open jobs and scheduling shifts, all from their mobile devices. The new social-infused Vortex apps are available today.
Mobile apps are changing the way workers collaborate, but social tools for field staff are still coming along. According to research, 67% of employees are using mobile devices for business correspondence including email and phone calls, but only 44% are using smartphones and tablets for social/professional networking. A primary reason is that social media tools for mobile devices have to date been designed mainly for consumer use. That's changing, as mobile apps like LinkedIn and Twitter become more popular and ingrained in the way workers do business.
"Social apps for mobile workers is a natural evolution of the consumer tech market and a huge opportunity for businesses and the vendors that support them," said Adrian Schauer, president and CEO at Vortex Connect. "Over time, most workers will be mobile in some fashion, and they'll expect that the apps they use on their desktops and at home will be accessible for business purposes on their smartphones and tablets. Our apps are designed for these workers, who covet the same tools and systems at work as they have everywhere else."
Mobile + Social = Better Business
Since 2008, Vortex has focused on making mobile workers more productive. Its flagship applications -- Mobile Shift Connect, Mobile Employee Connect, Mobile Manager Connect and Operations Connect -- are used daily by thousands of workers in North America to find open jobs, schedule shifts, transfer work assignments, communicate with managers, alert customers and update backend payroll and workforce management systems. The apps can be accessed from any mobile device, including iPhones, iPads, Android and BlackBerry devices as well as via SMS, email and automated phone.
"As an independent grocer with 50 stores in 30 Texas cities and over 10,000 team members, managing team member assignments and activities is an ongoing challenge," said K. David Crews, director of Strategic Projects at United Supermarkets. "The latest Vortex Connect software deployed in six pilot stores, makes these tasks easier by giving our managers and team members information about shift openings when and where they need it. Whether you call that 'social business' is up to you. We call it productivity."
The new iteration of Vortex apps seeks to combine mobility and social tools in a single platform. In doing so, Vortex expects that businesses will be able to streamline operations, maximize employee productivity and reduce costs, all while leveraging hardware and software that is convenient and comfortable to workers. Following are highlights from Vortex's new social apps:
Mobile Manager Connect
Intuitive dashboard with guided user experience leveraging badges
Leveraging live filters to edit, communicate and manage staff in real-time
Incorporate social communication with staff, offering shifts and following up on real-time issues with real-time communication
Mobile Employee Connect
Configurable user experience for easy, integrated real-time access
Social scheduling experience, providing employees with the ability to swap shifts, pick up open shifts
Real-time interaction with management, allowing staff to request time off, perform transfers and record time
Operations Connect
Incorporating real time workforce management data to provide exact filters to send out alerts or assigned tasks
Real-time integration via web services into leading ERP, Work Order Management, Task Management and Care Planning systems
Complete integration of Operations Connect into Mobile Employee Connect and Mobile Manager Connect providing a complete user experience
Mobile Shift Connect
Integrated into Mobile Manager Connect providing managers with the ability to communicate in real-time, launching shift offers from their own mobile device to any employee through SMS, Email and IVR
"In our business, real-time data can mean the difference between life and death," said Ray McKee, CIO at Arkansas Heart Hospital. "For instance, in an emergency situation, some communications may not be broadcast over an intercom. In cases like this we need the ability to communicate with staff via mobile alerts. The Vortex Connect apps are perfect for situations like this, and I'm excited to bring that functionality into our organization."
"This is just the beginning," said Schauer. "Even more functionality for socially charged mobile workers is coming soon from Vortex. Our goal is to give mobile workers the tools they need to be successful in business, by utilizing the devices and apps that are core to their daily lives."
About Vortex Connect
Vortex Connect is a mobile workforce management solutions provider specializing in business-to-employee communications. Vortex enables organizations to mobilize its people, its paper processes and organization. Employees are empowered with the right information, at the right time, so that they can execute on their organization's vision effectively. Mobile workforce management solutions will improve communications across the enterprise, team collaboration and streamlines processes. More information can be found at http://www.vortexconnect.com.