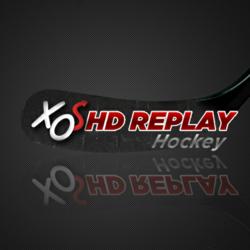 We have seen a prominent shift towards HD video in the last year, and are uniquely poised to provide the right technologies to take college hockey officiating to the next level."
Chris McCleary , CEO,
XOS Digital
Orlando, FL (PRWEB) April 26, 2012
XOS Digital, Inc., a global provider of sports video technology, today announced that it is providing high-definition officiating technology to three more collegiate programs among its more than 80 hockey partners. The University of Notre Dame, Quinnipiac University and Boston University hockey programs have now incorporated XOS HD Replay into their arenas. The announcement was made today by Chris McCleary, CEO, XOS Digital.
"There is a heightened emphasis on the accuracy of officiating with HD technology within collegiate hockey," McCleary said. "We have seen a prominent shift towards HD video in the last year, and are uniquely poised to provide the right technologies to take college hockey officiating to the next level. XOS Digital's HD video quality allows officials to see more details then they could previously without the technology in place."
The XOS HD Replay system was designed to enable officials to review plays near the goal in high-definition format, for a faster and more accurate review. Based off the core technologies found within the XOS HD Replay system for football and basketball, the software supports multiple HD camera feeds. The replay technician has the ability to mark plays and export videos of critical plays for immediate external review. With higher quality video available, officials can more clearly see critical details that may lead to a call's overturn and, potentially, a revised game outcome.
The HD technology offers four times the resolution of today's standard-definition video, and at one quarter of the bit rate. This increases the quality while decreasing the file size and time necessary to produce the video.
A dedicated camera provides a constant video stream of the shot clock which is inserted into feeds from two high-definition IP-based cameras located directly above both goals. This is to secure optimal angles for review and to achieve precise synchronization.
The XOS HD Replay system for hockey is compatible with XOS Review, a web-based software application for managing, grading, training and scheduling conference officials. A subscription to XOS Review comes standard with the hockey replay system. Accessible from any online computer, XOS Review enables conference administrators to view full game reports and video associated with each marked play in order to grade officials. Reports can be broken down or generated by team, official, review type, violation and foul. Plays marked for review in the XOS HD Replay system are automatically exported to XOS Review following the game's conclusion. All plays marked as a "critical play" are automatically and immediately exported into XOS Review, which then sends an e-mail to the director of officials with a link to the video clip for review in real time via computer or smart phone.
The XOS Replay system for hockey in standard definition is currently used by the CCHA and WCHA, along with select schools in the ECAC and Hockey East including Yale and Colgate University, Boston College and Merrimack College.
XOS HD Replay, XOS Review and the XOS Thunder Hockey HD editing system will be showcased at the upcoming American Hockey Coaches Association (AHCA) Convention set to take place in Naples, Fla. at the Naples Beach Hotel & Golf Club from Thursday, April 26 until Saturday, April 28. The exhibit hall hours are as follows: 8 p.m.-10:30 p.m. on Thursday, 3 p.m.-5:30 p.m. on Friday and 11 a.m.-1:30 p.m. on Saturday.
For more information about XOS Digital's products and services across all sports please visit http://www.xosdigital.com.
About XOS Digital, Incorporated:
Founded in 1999, XOS Digital is the leading provider of digital asset management solutions for collegiate and professional sports organizations. Conference officials, league offices, coaching staffs and athletic departments rely on the XOS portfolio of products and services to manage, analyze, archive, distribute, protect and monetize their digital assets. The XOS Thunder™ Coaching Platform, XOS Xchange™, XOS PlayerOnDemand™, XOS Digital Licensing Portal™, and the XOS Digital Sports Network™ digital media distribution technology provide the most advanced, comprehensive digital asset management solution available in the world. For more information, visit http://www.xosdigital.com.