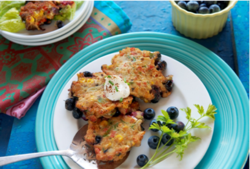 Watsonville, CA (PRWEB) April 26, 2012
California Giant Berry Farms just completed a very successful consumer berry campaign and is now sharing the very fruitful results. In partnership with Chef'n, a kitchen accessory brand, the "Sweet Taste of Spring" consumer campaign was built around a recipe contest that provided the company with over 100 delicious recipe entries from consumers and bloggers across the country. Submitted in eight winning categories, recipes featured California Giant fresh berries and were judged by a professional chef. Julia Myall, the company's chef advisor and cookbook author, tested each of the finalist recipes and provided California Giant with her winning recommendations based on flavor, creativity and versatility.
There were winners in eight different categories, but the grand prize winner was submitted by a consumer who took the time to submit several recipes encompassing each category which were all delicious. It was agreed that her best entry was ultimately a "Blueberry Corn Fritter" recipe which was tasted and enjoyed by all at California Giant last week. Chef Myall focused on this recipe as the grand prize winner due to its color, flavor and versatility in that it can be served as a side dish, an entrée, for brunch or for dinner, and it is delicious.
The ability to utilize social media, video and other web-centric tools in publicizing the contest generated additional likes on Facebook and more followers on Twitter @californiagiant for California Giant. However, the best news from the promotion is the ability to share some amazing berry recipes with consumers that utilize strawberries, blueberries, blackberries and raspberries in new and unique ways. The eight winning recipes will be featured on the company's website along with a roll-out of several other of the finalist recipes received from the contest.
"We are really enjoying the variety of tools we have in place to keep our consumers coming back for more, and to be able to share great ideas with each other on ways to enjoy our berries."," says Cindy Jewell, Marketing Director for California Giant Berry Farms. "As this promotion comes to a close, we are quickly shifting gears into a new contest that is focused on summer smoothies in partnership with Hamilton Beach who just launched a new smoothie blender", adds Jewell.
Similar to the recipe contest, this new California Giant Berry Farms promotion that launches April 30 will be publicized through all social media channels and the QR codes on California Giant packaging. "Every day our consumers have an opportunity to engage in conversations with us via our packaging, online or by the old fashioned phone call sharing stories, comments and even complaints. We are energized by that feedback and use it as a way to keep stepping up our game—and to ensure our marketing programs deliver," adds Jewell.
Blueberry Corn Fritters
1/4 cup all-purpose flour
1/2 tsp baking powder
1/2 tsp chili powder
2 eggs
1 cup California Giant Blueberries
1/2 cup frozen corn kernels, thawed
1/2 cup chopped red bell pepper
1 green onion, minced
2 Tbsp toasted slivered almonds
1 jalapeno pepper, seeded and minced
1/3 cup Cotija cheese, crumbled (Mexican cheese)
2 Tbsp vegetable oil
garnish- snipped basil
Combine the flour, baking powder and chili powder in a medium bowl; mix in the eggs till just moistened then gently add the remaining ingredients except oil till well combined. Heat the oil in a large nonstick skillet over medium heat. Drop the batter by 1/4 cupfuls into the skillet. Press lightly to flatten. Cook 1 1/2 minutes on each side. Serve with garnish. Makes 8
About California Giant Berry Farms
California Giant Berry Farms is a family owned privately held company that grows and ships over 25 million trays of berries annually (190 million pounds). Based in Watsonville, California, California Giant Berry Farms produces strawberries, blueberries, blackberries and raspberries and encompasses all aspects of growing, handling and shipping of fresh berries. The management and employees know the future depends on the actions of today and places concerns for the environment, food safety, excellent quality and service at the core of their business.