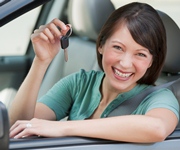 As financial advocates, we want to make the car buying experience as easy and simple as possible for our members and the community at large
San Antonio, TX (PRWEB) April 26, 2012
Generations Federal Credit Union will host an Auto Tent Sale from 9 a.m. to 3 p.m. at their Northwest Branch, located at 6000 N.W. Loop 410 (across 410 from Ingram Park Mall) on Saturday, May 5, 2012. The tent sale will feature a variety of pre-owned vehicles that include sedans, SUV's and trucks.
"As financial advocates, we want to make the car buying experience as easy and simple as possible for our members and the community at large. So we've brought together everything that consumers will need to make their decision and drive away in a vehicle," said Andrew Wilson, vice president of lending at Generations.
The tent sale will feature more than 15 vehicles including a Chevrolet Silverado, Dodge Ram Laramie, Honda Civic, Volkswagen Passat, Nissan Pathfinder and a convertible Chevrolet Corvette, among others. Generations underwriters will be on hand to make quick decisions on all loans. All vehicles have been detailed, and tags and registration are current. Vehicles will not be available for purchase until the day of the tent sale.
Additionally, if vehicles are financed through Generations, members have the option to defer their first payment for 90 days. For faster processing, attendees should bring copies of paystubs, proof of insurance and identification.
"Generations has a long history of helping members when they purchase vehicles, be it fast and easy approval for their loans, paperless loan closings or deferred first payments for up to 90 days," said Wilson. "So our tent sale is just a natural extension of those efforts; putting everything at our member's fingertips so they can make a quick and easy decision, get on the road and get back to their busy lives."
For additional information about the Auto Tent sale or Generations lending options, visit http://www.mygenfcu.org or contact the Loan Department at 210-349-LOAN. Generations membership is open to anyone who lives, works, worships, volunteers or attends school in Bexar County or family of current members.