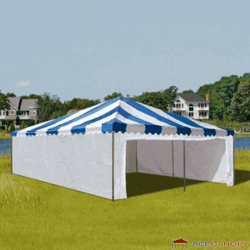 Los Angeles, CA (PRWEB) April 25, 2012
Every summer brings the desire for new styles and uses for things. Canopies and party tents are no different. Ace Canopy has added several new style canopies and party tents to their catalog this summer. With new product comes more demand for space. Items like party tents and carports can take up a lot of space so the Los Angeles canopy distributor has decided to sell off their old inventory at over a 50% discount. The discounts can be found on the Ace Canopy website.
A spokesman for Ace Canopy said, "There just isn't enough room left for last year's party tents. A new season demands new styles and we just have enough space to store both."
The canopy company offers wholesale amounts to department stores and the inventory takes up more space that the average retail store. Ace Canopy plans to add an additional warehouse terminal in Texas next year. Until then the stock pile of extra party tents, pop up tents and various canopies have to go.
The party tents are large structures that take up a lot of room. Some party tent frames require poles that are over 8 ft. long. A 20x40 party tents are very heavy and can require up to two pallets to deliver.
Car dealerships and schools are taking advantage of the sell-off. One Tennessee car dealership bought over a dozen 10x10 party tents for it's national car sale. They estimated their savings at over 80% due to the additional quantity discount that Ace Canopy gave them. In certain cases the canopy company even gave free shipping if the canopy was light enough.
Additional canopy discounts have also been offered to any non profits organization and veterans.
For more information about the party tent and canopy sell-off, go to http://www.acecanopy.com or call 1-800-838-3057