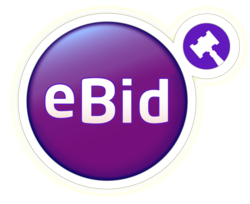 Miami, FL (PRWEB) April 27, 2012
Online Marketplace eBid (http://www.ebid.net), has responded to consumer demand by adding a "Make An Offer" button to its site. After polling its forum members, eBid found that over 90% of respondents were most interested in an option that could bridge the gap between competing against multiple bidders (and possibly being outbid), and simply clicking the "BuyNow" option which might list an item at a much higher price than the buyer is really interested in. The third option of "Make An Offer" strikes the fairest balance between these concerns.
Mark Wilkinson, co-founder of eBid said, "We think the 'Make An Offer' button is one of the key ingredients that's been missing from eBid. Indeed, our community forum is what got us thinking about the improvement once it came to our attention that some buyers have been scared away by a 'BuyNow' price that was set too high by the seller. Both the buyer and the seller are disappointed in these instances because the buyer might find an alternative seller and, of course, the seller has lost a potential sale." He continued, "Now, with our 'Make An Offer' option, a buyer has an easy line of communication to directly negotiate with a seller who just might be interested in a quick sale. We're sure this addition will translate into not only more transactions for our sellers, but also more bargains for our buyers. And it will certainly add a bit more strategic thought and fun to the online marketplace process."
One of the largest online marketplaces in the world, eBid recently expanded service to Brazil and Malaysia, now reaching a total of 23 territories, spanning more than 100 countries and five continents. eBid recently set a record for hosting over 5.8 million individual auctions in a given day, across more than 12,000 categories, representing a gross auction value of over $5 billion. And best of all - unlike eBay which charges a listing fee of $.10 - $2 - eBid never charges a listing fee, and it offers sellers substantially lower "final value fees". eBay charges a final value fee of 7.5% - 13.5% while eBid's final value fees range from 0% to a max of only 3%. All transactions are completely secure, utilizing PPPay.com, Google Checkout or PayPal.
Besides low final value fees for individual sales, eBid offers an upgrade option to "SELLER+" status for higher volume merchants. A one-time fee of $49.49 gives the seller a lifetime of zero listing fees and zero final value fees, or merchants may take advantage of a short-term subscription upgrade ($1.99 for 7 Days / $6.99 for 30 Days / $16.99 for 90 Days).
About eBid.net (http://www.ebid.net)
Founded in the UK in 1999, eBid.net is now a global company with a presence in 23 territories across the UK, Europe, USA and Canada, Africa, Asia, Australasia and South America. With a commitment to person to person online auctions, eBid.net is recognized as the "best eBay alternative" by Webuser Magazine.
Sources:
eBay Seller Fees (http://pages.eBay.com/help/sell/storefees.html)