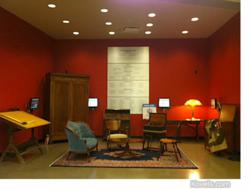 Cleveland, Ohio (PRWEB) April 26, 2012
The WVIZ/PBS Televised Auction is an exciting live television event to help raise funds for the public television station in Cleveland. The auction will start on Thursday, April 26, and continue through Sunday, April 29. Enjoy the thrill of live bidding—online or by phone—on thousands of items, everything from antiques, collectibles and art to grocery-store gift certificates and computers.
Terry Kovel, antiques expert and longtime supporter of WVIZ, will be auctioning antiques and collectibles from the practical to the priceless on the air at the "X Table" Thursday from 3 p.m. to 1 a.m., and Saturday and Sunday from noon to 1 a.m. To watch on your computer, visit Kovels.com and link to live web transmission of "Auction Action."
Some of this year's outstanding donations of antiques and collectibles include a Pullman tea wagon, antique French armoire, cedar chest, Craftsman-style desk, dining room sets, and other furniture by name designers and makers from the '50s and later (like Widdicomb and Baker). Look for a Sterling-Lindner-Davis Christmas tree ornament from the 1950s, an early Seth Thomas 8-day clock, cast-iron hitching post, Hall China Airflow teapot, Steuben candlesticks, and lots of lamps, dishes and silver tableware, as well as a 1913 American Red Cross poster and an authentic replica of Winston Churchill's desk. Everything is sold without reserve.
Viewers can preview auction items or register to bid online or by phone by going to the WVIZ website. There are always bargains and great surprises as well as the unexpected, so join the fun on April 26, 27, 28 and 29.
About Kovels.com
Terry Kovel has written 100 books about collecting, including the best-selling annual "Kovels' Antiques & Collectibles Price Guide." Terry publishes a subscription newsletter, "Kovels on Antiques and Collectibles," and writes a syndicated newspaper column, Kovels: Antiques and Collecting, that appears in more than 100 newspapers and digital publications. She and her late husband, Ralph, starred in the weekly HGTV series, "Flea Market Finds with the Kovels." The Kovels are the trusted source on antiques and collectibles. The Kovels website, Kovels.com, offers more than 800,000 free prices (all reviewed for accuracy) and other information for collectors, including books, special reports, a free weekly email publication - Kovels Komments - a database of pottery, porcelain and silver marks and an archive of useful information on antiques and collectibles.
Contact information:
Liz Lillis
pr (at) kovels (dot) com
216-752-2252