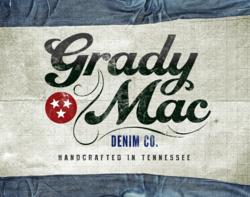 Knoxville, Tennessee (PRWEB) April 28, 2012
CMOco., a Knoxville based brand development and marketing company, announced March 27th that it has been selected as the exclusive brand development and marketing organization to create and launch a new premium jean line called "Grady Mac Denim" coming this fall to e-commerce. "We are thrilled to have been chosen to develop and launch this exciting new brand, " said CMOco. President and CEO Lori Asbury. "The fact that this premium jeans line will be handcrafted in Tennessee makes the project even more exciting for us."
Based in rural Tullahoma, Tennessee - Grady Mac Denim is created by Tullahoma Industries, owned and operated by the son-in-law and grandson of Grady MacKnight. Tullahoma Industries, since the early 1980's, has designed and manufactured the uniforms worn by the men and women serving our country in the United States Armed Forces. Tullahoma Industries is known for making quality clothing that is durable, reliable, and comfortable, and to this day is still a primary provider of uniforms for our troops. Using all American Made fabrics and hand-crafted in the heart of Tennesse, Grady Mac will be sold through e-commerce this fall.
CMOco. will develop and manage all brand development, marketing, advertising, publicity, and social media activities surrounding Grady Mac Denim. CMOco. has contracted design firm Digital Media Graphics (DMGx) to assist in the identity and e-commerce platform development. "I am fortunate to work with one of the best graphic and web design companies in the country on this project," said Asbury "So far I think our identity and initial frames of our e-commerce platform are spot on to appeal to our target demographic."
Asbury also notes that CMOco. has a variety of partnerships planned that will extend the Grady Mac Denim brand into multiple platforms to build awareness and reach consumers in new and meaningful ways. "Those plans will be announced as the partnerships are formalized," said Asbury.
ABOUT CMOco.
CMOco. (http://CMOco.com) is full service brand development and marketing company based in Knoxville, Tennessee serving clients nationwide. CMOco. which stands for "Chief Marketing Officer Company" provides organizations the knowledge, experience, and abilities of a senior-level CMO without the burden of a full-time executive salary and overhead. Consider it "renting" a Chief Marketing Officer." With CMOco. as a partner, companies instantly have someone with years of proven experience building billion dollar brands acting as their Chief Marketing Officer at a fraction of the cost and without risk of a full-time hire. CMOco. specializes in brand development, business strategy, marketing initiatives, and advertising. CMOco. works with both business-to-consumer and business-to-business facing clients. CMOco. is not a consultant. CMOco. fully integrates itself into companies offering strategic business and marketing solutions that drive bottom-line value. CMOco, works directly with staff as needed and manages all of the execution of any business, marketing and branding solutions we recommend.