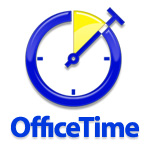 This survey reflects what we've known from users of our OfficeTime time tracking software – that time is worth tracking.
London, UK (PRWEB) April 26, 2012
In OfficeTime.net's just-released survey of business owners and professionals who track their time, the company discovered that 46% of respondents indicate they track their time because it helps them to become more productive, while 42% said it helps them to provide their clients with better invoicing while improving their own revenue. For those tracking time to improve productivity, 42% aimed to identify how their time is being used while 31% indicated they wanted to know where their time was being wasted.
"This survey reflects what we've known from users of our OfficeTime time tracking software – that time is worth tracking," said Stephen Dodd, director of OfficeTime.net. "By accurately tracking time each day, business owners and professionals not only can bill for more time and increase their revenues, but they can simply work more efficiently by making better use of their time."
OfficeTime.net has released the latest update to its Mac and PC versions of the time and expense tracking software – now offering improved synchronization with iCal or OfficeTime on an iPad or iPhone. OfficeTime continues to build upon its easy-to-use time tracker, supporting busy professionals who invoice on an hourly fee schedule – or who simply need to know where they are spending their time to be more productive or against a fixed-cost project.
OfficeTime, designed to balance features and ease-of-use, enables users to easily track exactly what they do each day and how much they spend. Significant enhancements to the latest update to OfficeTime include:

Smoother and faster synchronization with iCal or an iPhone/iPad.
A new invoice field shows the time a session started.
Expenses recorded on an iPhone or iPad will now import to the desktop versions as taxable.
The company is so confident in OfficeTime's ability to produce a tangible return-on-investment that it offers a full money-back guarantee if the app doesn't pay for itself by registering more time than the user otherwise would have logged and invoiced.
About OfficeTime
Ideal for anyone who bills by the hour or project, OfficeTime makes recording and tracking time and expenses simple with a clean, elegant interface. The iPhone and iPad versions focus on ease-of-use, recognizing that if time tracking is simple to do, users will be more likely to take the time to do it. OfficeTime takes great care to minimize how many finger taps it takes to do something.
Some other features available on this time-tracking tool are:
Instant invoicing.
Easy "live" reports, enabling users to edit reports on-the-fly.
iCal sync, providing quick access to the day's activities at-a-glance.
Team reporting.
As a thank you to its active user base, OfficeTime.net is giving away this major update free to all current users.
The PC and Mac versions of OfficeTime can be purchased at OfficeTime.net for US$47 while the iPhone and iPad versions are available in the iTunes App Store for US$7.99. Unlike web-based time-tracking applications, OfficeTime does not require a monthly subscription fee.