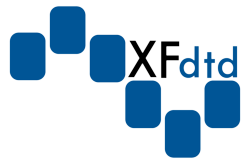 State College, PA (PRWEB) April 26, 2012
Remcom announces an update to its electromagnetic simulation software, XFdtd® Release 7 (XF7), with an assortment of new computational and complex geometric modeling features, such as leveraging XStream® GPU Acceleration for simulations with dispersive materials and the ability to twist and stretch geometry.
Highlights of the release, which updates the software to Release 7.2.3, include:
Debye/Drude Dispersive Materials Leverage XStream GPU Acceleration: Simulations using Debye/Drude materials now join those using non-dispersive materials in leveraging XStream GPU Acceleration to dramatically reduce simulation time.
New Modeling Features: Stretch and Twist Geometries: Stretch and Twist created within XF7 or imported from other CAD tools.
Components Specified as RLC Values vs. Frequency: The sampled RLC facilitates modeling narrow band behavior of passive components. This feature can simulate the complex behavior of real world components using sampled values of equivalent circuits at different frequencies obtained from spec sheets.
Updated SAR Averaging to Comply with IEEE 1528.1: Recent changes to the IEEE 1528.1 standard call for more stringent mass accuracy in the averaging volume and the way unused voxels are handled.
Plane Wave Excitation with Active Feeds: Plane wave excitation may now be used in conjunction with active sources, making it easier to determine how external signals affect the operation of a device.
XF7 is available in both Pro and Bio-Pro versions. Both include XStream GPU acceleration, 32- or 64-bit analysis module, geometric modeler and postprocessor, shared memory multiprocessor (MPM) at eight cores, and a comprehensive variety of 3D CAD import modules. The Bio-Pro version also includes SAR capability and high fidelity human body meshes. XFdtd users without an active Remcom Professional Support contract can upgrade to the latest version of Release 7 by contacting sales@remcom.com
About Remcom: Remcom provides innovative electromagnetic simulation software and consulting services. XFdtd, the company's full wave 3D EM solver, simplifies the analysis of complex EM problems and leads the market in FDTD-based modeling and simulation. Remcom's products are used for antenna design, bio/EM effects, MRI, microwave circuits, RFID, military and defense applications, EMC/EMI, and more. Remcom is committed to its customers' unique needs, offering flexible licensing options for installations of all sizes as well as custom engineered solutions.