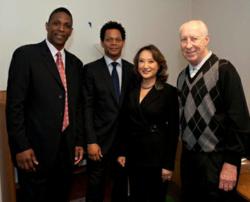 "Youthconcussion.com will help promote student safety, offering valuable information about the signs and symptoms of concussions, the prevalence and impact of these head injuries, and how to comply with the new law." --Assembly Member Mary Hayashi
Sacramento, CA (PRWEB) April 25, 2012
Assemblymember Mary Hayashi (D-Hayward) announced the launch of a new website, youthconcussion.com, that will serve as an online resource center for parents and kids. The site features information about sports-related concussions, as well as information about California's new return-to-play law, AB 25.
"As we implement AB 25, it's important to educate parents and our student athletes about concussions and the steps they will need to take in order to return to the game," stated Assembly Member Mary Hayashi. "Youthconcussion.com will help promote student safety, offering valuable information about the signs and symptoms of concussions, the prevalence and impact of these head injuries, and how to comply with the new law."
AB 25 was signed by the Governor last year, and the bill took effect in January 2012. School districts are now required to immediately remove an athlete from a school-sponsored athletic activity if he or she is suspected of sustaining a concussion or head injury.
Students cannot return to play until he or she is evaluated by, and receives written clearance from, a licensed health care provider. A concussion and head injury information sheet must be signed and returned by that athlete and their parent or guardian before the first practice or competition. A copy of this sheet is available at youthconcussion.com. Youthconcussion.com is not paid for at taxpayers expense.
To further strengthen this law, Assembly Member Hayashi has introduced another bill, AB 1451, which will train coaches to recognize the signs and symptoms of concussions. This training will help coaches and schools to take appropriate steps when an injury occurs.
Assembly Member Hayashi is the Chair of the Business, Professions, and Consumer Protection Committee and serves the 18th Assembly District, which includes San Leandro, Hayward, Dublin, most of Castro Valley and Pleasanton, and a portion of Oakland, as well as the unincorporated areas of Ashland, Cherryland, San Lorenzo and Sunol.
# # #