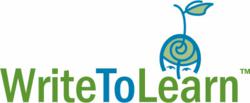 Chicago (PRWEB) April 30, 2012
Good grammar is fundamental to good writing. However, today's students, who live in a world of texting, instant messaging and "tweeting," are often lacking strong grammar skills. Now with the newest update to Pearson's award-winning online writing tool, WriteToLearn®, unveiled today at the International Reading Association's Annual Conference here, students will receive even more feedback on grammar, punctuation and word-usage.
The only online writing tool that provides automated scoring and immediate feedback to improve both reading comprehension and writing, WriteToLearn offers students an engaging and motivational environment for practicing and refining their skills. Now WriteToLearn does a better job of finding the most frequent grammatical and mechanical errors, such as run-on sentences, incorrect word usage, and punctuation.
"There are many elements to good writing – how ideas are organized, the quality of those ideas, and how they are expressed. Part of that expression is knowing the conventions of grammar and mechanics" said Lynn Streeter, president of the Knowledge Technologies business of Pearson, developer of WriteToLearn. "Improved detection of grammar errors is an example of how we are continuously enhancing WriteToLearn's technology to ensure that it provides students with the feedback and practice required to become strong writers and readers."
Developed based on more than 15 years of research and evaluation at the University of Colorado and New Mexico State University, WriteToLearn is illustrative of Pearson's overall commitment to collaborating with educators to develop next-generation assessments that will improve student achievement.
Schools and districts with current WriteToLearn accounts will receive the update free of charge. WriteToLearn is available for purchase on a concurrent or individual student license basis, with district-level subscriptions now available.
WriteToLearn qualifies for federal funding under the American Recovery and Reinvestment Act. For more information, visit http://www.WriteToLearn.net.
About Pearson
Pearson, the world's leading learning company, has global reach and market-leading businesses in education, business information and consumer publishing (NYSE: PSO). For more information, visit http://www.pearsonassessments.com.
For more information: Adam Gaber, Pearson, 800-745-8489 / adam.gaber@pearson.com / @apgaber (twitter)