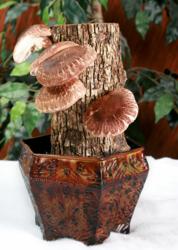 "I love this kit because it's beautiful, functional, unusual, and absolutely unique." Sandra Williams, Lost Creek Mushroom Farm
Perkins, OK (PRWEB) April 26, 2012
For mothers who love mushrooms, gardening, or gourmet cooking, the Queen Anne shiitake mushroom log kit is an easy answer to "How can I surprise my mom for Mother's Day?" The 12-inch shiitake log, a real oak or other hardwood log, stands in an attractive embossed metal pot. The log will fruit -- produce fresh shiitake mushrooms -- every two months for years.
Sandra Williams, owner of Lost Creek Mushroom Farm and designer of the kit, is especially fond of the Queen Anne. "I was looking for a container that was graceful, something that would add beauty to the room and enhance the presentation of the mushroom log, whether it was bare between fruitings or blossoming with shiitakes."
Shiitakes are known for their flavor, meaty texture, and health benefits -- reducing cholesterol, stimulating the immune system, providing high-quality protein with little or no fat. The second-most favorite mushroom in the world contains properties that create feelings of joy. "Mom eats these delicious mushrooms and feels glad that she has such a wonderful child," the Mushroom Lady joked. "But truly, they do elicit feelings of joy. In olden times they were used to heal grief and were happily served at celebrations."
The Queen Anne is the most recent addition to Lost Creek's line of shiitake log kits. The logs can be kept in the house like plants, or on the patio under shade in temperate regions. Logs are soaked in non-chlorinated ice water, which starts the fruiting cycle. At first the log buds, or "pins." After 6-10 days, the mushrooms are ready to harvest. Then the logs "rests" for two months, building up more mycelia, with a soaking cycle of 12 hours every two weeks in room-temperature, non-chlorinated water.
"These mushroom log kits are great gifts," Williams explained, "they last for a long time and keep producing. You can expect a few mushrooms at first, and increasingly larger yields as the logs mature. We've been creating kits for almost 20 years now, and we've had a terrific response."
The Queen Anne sells for $48.00, including shipping and handling. The kit contains a ready-to-fruit 12-inch log, an embossed metal pot, instructions and recipes. The log is guaranteed to grow shiitakes.
To increase the value of your Mother's Day Gift, add The Shiitake Sampler Cookbook by Janet Bratkovich for $7.95. The cookbook sells separately for $9.95, including postage.
Lost Creek Mushroom Farm has kits starting from $18.00 for a 6" 'Shroomie. The Ma & Pa Kit features two 9-10" logs and sells for $49.95. Alternating the fruiting log will produce mushrooms every month. Their best-seller is a single 9-10" log for $29.95. Gift baskets, at $49.95, include shiitake soup mixes, shiitake dip mixes, a 'Shroomie, the Shiitake Sampler Cookbook and organic, log-grown dried shiitake mushrooms. All prices include s&h.
The Queen Anne Kit is available only at Lost Creek's website and by phone. Order online at http://www.shiitakemushroomlog.com or by phone at 1-800-792-0053. Lost Creek Mushroom Farm log kits are available on Amazon.com at slightly higher prices.
A portion of sales is donated to [Mushrooms in Ghana Project. Through Mushrooms in Ghana Project Lost Creek Mushroom Farm has brought Ghanaian mushroom growers to the US, supported mushroom production training programs, established a shiitake research project in central Ghana, and is equipping a spawn (mushroom seed material) laboratory that can supply small-scale mushroom farmers in central and northern Ghana.