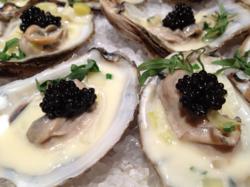 From its inception, Black River Caviar sought out the perfect environment within which they could match the quality of wild caviar production.
Reno, NV (PRWEB) April 26, 2012
Colorado based Black River Caviar has been selected as the caviar of choice by both Seabourn cruise line and online gourmet food retailer Mirepoix USA.
Black River Caviar's premium ossetra sturgeon fish caviar will be provided to the discerning guests of the award-winning small-ship cruise line Seaborn, following the recently announced alliance between the two companies. "Caviar is a luxury," noted Richard Meadows, Seabourn's president, "and as such, it is a part of the culinary repertoire on board our ships. Seabourn guests expect us to provide quality caviar," he continued, "and they also share our concern for sustainability, so we are pleased to have discovered the Black River ossetra."
Mirepoix USA, a leading online purveyor of specialty gourmet foods and traditional French foods, has been offering Black River Caviar to fine food connoisseurs for nearly three years. Laurel Pine, Mirepoix USA founder, was intrigued and impressed by the Black River Caviar story, and after tasting the company's flagship product, a Siberian ossetra, in 2009, Pine's loyalty to the company was established.
According to Graham Gaspard, Black River Caviar's President, the company has pioneered an entirely new concept in sustainable caviar. "From its inception, Black River Caviar sought out the perfect environment within which they could match the quality of wild caviar production."
The Black River brand currently offers Siberian Caviar (Acipenser Baerii) and Russian caviar (gueldenstaedtii baerii). Black River's Siberian Ossetra caviar is harvested from Siberian sturgeon, originally imported as fertilized roe from Russia in 1995. The caviar is "wild raised" in Uruguay, using sophisticated farming techniques that almost exactly mimic sturgeon's natural living environment.
According to Gaspard, the Black River Caviar facilities recreate life in the wild from day one until the moment of caviar harvesting, all under the guidance of a Russian master sturgeon farmer. The imported sturgeon eggs are first housed in a hatchery, which simulates the bottom of the river where Russian sturgeon naturally spawn. Young sturgeon are then sent to a lake environment which corresponds very closely to that of the Caspian Sea. In the lake's stress free environment, the sturgeon are fed an all-natural, organic feed. Once the females start to produce their first roe, they are moved to the Raceways systems, which is a perfect simulation of the river delta and its requisite rapids.
Black River Caviar's Russian Caviar Master uses the malossol, or "little salt" method, to enhance the superb flavor of the caviar. The caviar, which has been praised by experts including a number of renowned chefs, is chestnut brown to charcoal in color, with a medium to large sized bead. Black River Caviar has a fresh, clean, nutty taste, and a sweet and creamy finish, According to Mirepoix USA.
Seabourn's six-ship fleet circles the globe throughout the year, sailing to the world's most desirable destinations at their peak seasons. Cruises of seven days to World Cruises of over 100 days visit hundreds of ports, including marquee cities and lesser-known yachting harbors and hideaways that few travelers ever see. Remarkably all-inclusive fares offer tremendous value for one of the world's finest travel experiences. For details call Seabourn at 1-800-929-9391 or visit seabourn.com.
Mirepoix USA began marketing premium foie gras, caviar, truffles and other traditional French foods in 2004, and currently offers over 150 exquisite luxury food products, all personally tasted and chosen by the company's founder. In recent years the online retailer has expanded product offerings to include Wagyu and US Kobe beef, artisanal and French cheeses, and a wide selection of gourmet gift baskets and gourmet food. For more information, visit http://www.mirepoixusa.com or call 866-992-9559.