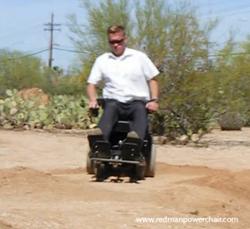 Tucson, Az (PRWEB) April 26, 2012
America's top-selling standing power wheelchair has the ability to go off-road with its 4" ground clearance, four wheel independent suspension, and uneven ground suspension. The Redman Power Chair's superior quality makes any terrain wheelchair accessible. Its guaranteed fit and function makes it the industry leader in standing wheelchairs and reclining wheelchairs.
"We are thrilled that power chair users continue to improve the quality of their life by going anywhere, on any terrain," says Sam Redman, Founder and Sales Manager of Redman Power Chair, "The innovation behind the ground clearance and suspension is something we are very proud of."
The 4" ground clearance has always been a feature of the Redman Power Chairs. All of the chairs are specified to each customer's unique needs and are hand-built in the U.S. It has unparalleled movement and, thus, numerous physical and psychological health benefits ranging from improved circulation to increased cognition.
"Without a standing wheelchair or reclining wheelchair, users can encounter health problems." Redman continued, "We make a chair that has always been healthier for the user and now it can go on uneven, rough ground while still being stable and comfortable."
Availability
The Redman Power Chair is available worldwide. More information can be found at http://www.redmanpowerchair.com or by contacting Sam Redman at 520-546-6002 or 1-800-727-6684.
About Redman Power Chair
Redman Power Chair pioneered the standing wheelchair and reclining wheelchair and it is the best selling standing power chair in America. As seen on Manufacturing Marvels with John Criswell during the Freedom Watch program on FOX Business Network, the power chair moves you in a whole new way—it stands, reclines, tilts and power-elevates your legs effortlessly and is completely customized. The company is headquartered in Tucson, Ariz. and has been providing innovative solutions for standing and mobility solutions for over 20 years.