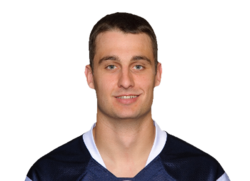 "I am in a position to influence people from all over the world to eat right and exercise so that they can live longer," said Jonathan Crompton, QB for the Washington Redskins
Asheville, NC (PRWEB) April 26, 2012
Jonathan Crompton, quarterback for the Washington Redskins and former starting quarterback at the University of Tennessee, has been named to the Scientific Advisory Board for WellBalance, a leading health organization that runs weight loss summer camps & community outreach programs for adolescents aged 10 – 20 as well as food & fitness boot camps for ages 20 - 30.
Crompton's effort to help overweight adolescents improve their physical fitness levels has been well documented on television and multiple media websites. As part of his position on the Scientific Advisory Board, Crompton will advise WellBalance on the best ways to teach sports-related skills at weight loss camps. Crompton and WellBalance executives both share the viewpoint that if clients develop proficiencies in areas of sports and fitness, they will be in a better position to stay physically active throughout their lifespan.
"WellBalance is thrilled to have Jonathan Crompton as a member of our scientific advisory board," said John Gordon, WellBalance CEO. "He is passionate about helping adolescents live longer, happier lives and has been active in helping youth overcome the pitfalls of obesity by teaching them how much fun a person can have by engaging in exercise."
Originally from Asheville, North Carolina, Crompton was a Parade All-American high school quarterback and named to the North Carolina All-State team twice. After committing to play collegiately at the University of Tennessee, Crompton was named the National Player of the Week in 2009 for guiding the Volunteers to win over the Georgia Bulldogs. In 2009 Crompton was National Player of the Week and guided Tennessee to in a bid to the Chick-fil-A Bowl. After his senior season, Crompton was selected by the San Diego Chargers in the 2010 NFL Draft.
"I couldn't be happier to be a part of the WellBalance Advisory Board," said Crompton. "I've always been someone who wanted to make a difference in my community. Now that I have been invited to help teens develop healthy lifestyle habits, I am in a position to influence people from all over the world to eat right and exercise so that they can live longer. For this reason, I couldn't possibly pass up on the opportunity to be a part of the WellBalance team."
Crompton earned his bachelor's degree in communications from the University of Tennessee and is close to completing a master's degree in sports psychology. Throughout his NFL career, Crompton has been a member of the San Diego Chargers, New England Patriots, Tampa Bay Buccaneers, and has been with the Washington Redskins since the 2011 season. Crompton recently signed a new contract with the Redskins that will allow him to continue his career under 2-time Super Bowl winning coach, Mike Shanahan.
###
WellBalance designed the ME Plan to Motivate & Educate on what medical research shows works for sustainable fitness, weight loss, and health success. Founded by professionals and guided by experts who have led large behavioral health, mental health, and treatment programs, WellBalance is working to become the leader with a focus on improving an individual's overall health. WellBalance developed the WellBalance Health Score© to rate a person's overall medical, emotional, and fitness health status as well as show a person's progress towards health norms. WellBalance operates summer camps, local programs, and fitness programs for adults. For additional information please visit http://www.wellbalance.com or call (800) 975-0435.