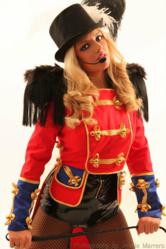 Not only do we show people how to become an impersonator, but also how to succeed in entertainment and book some really amazing gigs using Gig Salad.
Springfield, MO (PRWEB) April 26, 2012
Gig Salad has interviewed some of the most successful celebrity impersonators for a behind-the-scenes look into the business – what it takes to get in and what it takes to stay in – and whether 50 million Elvis fans can, in fact, be wrong. The results, available as a multi-part series on Gig Salad's blog, give a behind-the-scenes look at those individuals who achieved notoriety for looking like (or sounding like, or both) someone famous, and who stay busy working as a professional impersonator.
"Our goal was to show aspiring tribute entertainers the reality of becoming a celebrity impersonator," says Gig Salad co-founder Mark Steiner. "When many people think of impersonators, their immediate association is Elvis Presley. While there are thousands of Elvi in the US, there are also professional impersonators for virtually any celebrity you can think of. You'd be surprised. We have a rich and vibrant impersonator community on Gig Salad, and this was a way to introduce that community to event planners and talent buyers, while also shedding a light on the industry as a whole."
A look behind the curtain of an oft-misunderstood entertainment genre was overdue for this booking agency. According to Steiner, "Our primary focus has always been helping people book the best local and regional entertainment for private parties and events across the country, from aerialists to zydeco bands, and we've now become the leading destination for event planners to hire impersonators, tribute artists, and tribute bands. We thought it would be fascinating for aspiring celebrity impersonators to see what it's like when the makeup comes off, and what sets these performers apart from others."
"We're hoping our interviews with these industry leaders will serve as an inspiration for those who might be timid to make a run at a career in the tribute artistry. In Hollywood, the chances of 'making it' are astronomical. By contrast, it's certainly not easy to break into the tribute business, but at least the groundwork has been set by the star themselves. That said, we have seen that impersonation is an art form that requires near-obsessive attention and absolute passion to perfect. The performers we've interviewed have really gotten it right, but it didn't happen overnight."
For those curious about what it takes to become a celebrity impersonator, Steiner says there are a few important things to think about. "Beyond identifying a celebrity to impersonate, there are actually several distinct categories of impersonation." The choices, according to Steiner, are 'celebrity lookalikes' – for those who bear a striking resemblance to someone famous, 'soundalikes' – people who could even fool someone's mother if she has her eyes closed, 'tribute artists' – performing based on the celebrity's act and not necessarily their looks, sharing their energy and passion in tribute, and full-on 'impersonators' – those who have nailed the looks, the act, and the attitude.
For those ready to start a career as a celebrity impersonator, or for those who are just plain curious, Gig Salad's blog will feature stories that are equally inspirational and informative. Steiner is confident that there is something for everyone. "We wanted to cover the spectrum, from how to get started to how to stay in the game, and included some helpful hints from leading celebrity impersonators. Not only do we show people how to become an impersonator, but also how to succeed in entertainment and book some really amazing gigs using Gig Salad."
If you're ready to learn all about the impersonation industry, or if you've got the Looks and want to turn them into a Living, you can find the full series on the Gig Salad blog at http://blog.gigsalad.com
About Gig Salad
With more than 20,000 entertainers and vendors available for hire across North America, Gig Salad is the place to book entertainment and event services for parties and corporate events. Gig Salad's clients include America's Got Talent, CBS, American Express, Disney, and MTV, in addition to thousands of brides, event planners, parents, and venue owners who use the site to book entertainment.
Based in Springfield, MO and Wilmington, NC, they can be reached at 866-768-GIGS and at gigsalad.com.