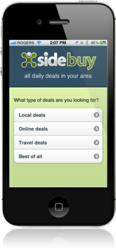 Vancouver, BC (PRWEB) April 27, 2012
SideBuy.com, which lets users search for daily coupons among all providers, in locations from Vancouver to Orlando, has launched its much anticipated mobile friendly site for all users accessing the site on their smart-phones or tablet. The new site can be reached at: http://www.sidebuy.com/touch. It has all the features of the site including the interactive map, search box and best picks every day, which are all available from any mobile device.
Daily deals can be found everything from pet sitting to microderm abrasion. Sidebuy.com offers access to all coupons without having to read several different emails or search on several different discount coupon websites. Deals can be offered by their price, category or location. Sidebuy.com connects its users with daily deal providers in Australia and the UK, as well as across the United States.
Ramin Behzadi, SideyBuy's co-founder and CEO explained the decision saying, "we chose to create a mobile site rather than an app because we wanted to create a user-friendly buying experience that was accessible anywhere."
The company hopes to better serve their users with this new mobile site by providing faster results, which also include a geo-location ability.
"With more and more users browsing sites on the mobile devices, the new version makes more sense and brings more convenience for all users," added Ramin.
Sidebuy.com's new mobile site works on all devices and all operating systems including and not limited to: iPhone, iPad, Android, Microsoft, BlackBerry, and more. The user does not need to download and install any specific application. The site detects whether the traffic is coming from a mobile device and automatically takes the user to the SideBuy-Touch site.
About SideBuy.com
SideBuy.com is the most comprehensive daily deal aggregator that lists all deals available in Canada, US, Australia and United Kingdom. By compiling such a vast list, SideBuy can offer users up to 90% discounts from all over the web and is the most efficient way to score the best deals.