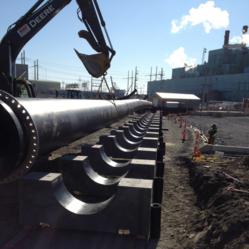 Based on its' proud and rich tradition, we were very confident that Shea Concrete could tackle this task within the allocated time
Wilmington, MA (PRWEB) April 27, 2012
Shea Concrete, one of the largest precast concrete manufacturers in New England, is pleased to announce the completion of its role in the Power Plant Project. The firm was the exclusive provider of ballasts for the site and was contracted to manufacture an encasement for two 660 linear feet runs of 48" outfall pipes. These lines provide the plant its only means of transporting blowdown water from the treatment building to an existing discharge canal. Custom made forms provided a guide to produce these unique components, which now reside safely underwater.
"We worked closely with the company in developing a working solution to accommodate all the facets that were unique for this job," remarked Greg Stratis, the Manager at Shea Concrete's Amesbury location. "We successfully manufactured ballasts that not only met performance requirements, but were also extremely user friendly for the installers."
This stage of the multi-million dollar project began in December of last year and was recently completed at the end of March. Knowing that the shortened timeline may have crippled other suppliers, they reached out to Shea Concrete to ensure meeting the target date.
From the outset, the goal at the power plant project was to design and produce a feasible solution that would be easily installed underwater. However, several obstacles presented themselves and needed to be addressed to achieve that marker. First and foremost, the composition of the concrete had to be altered to combat the harsh environment of its surroundings. Thus, micro silica and a dosage of Rheocrete CNI were included in the concrete formula in order to reduce corrosion in the reinforcement of the ballasts.
Taking into consideration the time and safety of its on-site workforce, Shea Concrete implemented an interlocking tongue and groove system that incorporated 51 sets of varying sized ballast blocks, which weigh between 4,000 to 6,000 pounds each. This design element proved vital, for it allowed workers to construct the unit while remaining onshore and also eliminated any potential threat of needing to perform costly repair measures underwater. Once the pipeline passed rigorous inspection, it was floated out to sea, positioned to its exact location and sunk.
"We strive to manufacture and deliver the utmost in quality and design without sacrificing any safety protocol," commented Stratis. "This project showcases the vast array of our capabilities as a company."
About Shea Concrete
Family-owned and operated since 1949, Shea Concrete is one of New England's largest suppliers of precast concrete products, serving both commercial and residential industries. As a National Precast Concrete Association (NPCA)-certified company, Shea Concrete's manufacturing plants consistently operate at the highest standards of production and quality control. Shea Concrete produces environmentally safe concrete products, including sewage and drainage systems, barriers and curbs, utility structures and Shea block retaining walls. Other precast concrete products include bulkhead, side entry, and standard steps. Serving all of New England, Shea Concrete is headquartered in Wilmington, Massachusetts, with additional locations in Rochester, Massachusetts, Amesbury, Massachusetts, and Nottingham, New Hampshire. For more information, please visit http://www.sheaconcrete.com.