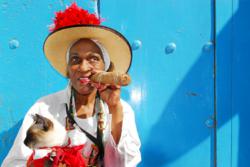 Engaging and interesting people-to-people programming has the power to connect us like few other things.
Helena, AL (PRWEB) April 26, 2012
For over half a century legal travel to Cuba has been almost impossible for Americans, making this island a forbidden fruit for the adventurous. International Expeditions, the world leader in engaging and authentic nature travel, has been licensed by the U.S. Department of the Treasury to provide authorized people-to-people Cuba travel for U.S. citizens beginning with two inaugural programs departing June 7, 14 and 21, 2012. Not only does this license allow participants to travel to Cuba legally, but it provides the opportunity to experience Cuba in the most authentic way possible — through the eyes of its people.
"We are excited to have been selected to hold a people-to-people license for Cuba," said IE President Van Perry. "This will allow IE guests to experience the same level of service and immense expertise in Cuba that they have experienced when traveling with us worldwide. I am also pleased that our Co-Founder and Executive Director Steve Cox will lead our inaugural journeys in June."
As one of the few American companies approved to operate these programs, International Expeditions' newly acquired license to legally operate people-to-people educational programming is a vital step in opening up a dialog between American and Cuban individuals.
"Engaging and interesting people-to-people programming has the power to connect us like few other things," said Cox, who traveled to Cuba twice while developing IE's program. "Imagine sitting at a table with locals in a Cuban village, and instead of discussing issues that divide our two lands, you have a conversation over a piece of pie and cup of coffee. What you get isn't political debate, but instead a dialog about family, friends and what really connects us. "
Setting IE's Cuba itinerary apart is an emphasis on engaging with Cuban naturalists, birders, biologists and conservation groups. Guests spend their days in immersive discussions with Cubans from all walks of life, including the botanists and staff of Soledad Botanical Garden, once known as the Harvard Biological Laboratory, and the private Vinales Botanical Garden. Nature enthusiasts will join Cuban birders in the Zapata Wetlands searching for bee hummingbirds, the world's smallest bird. Other highlights include an excursion to a tobacco farm to hear from family farmers about the challenges and rewards of their lifestyle.
IE's immersive itinerary offers a fascinating and unforgettable opportunity to interact with the Cuban people on a deep level — making you a true ambassador and not a "tourist." During the ten-day program, travelers survey all of Cuba's cultural "must sees" including Cienfuegos, Trinidad, Bay of Pigs, Las Terrazas, Vinales and, of course, Havana. Throughout their journey, travelers interact with local artists, a youth choir and even a chef specializing in locally grown, vegetarian cuisine.
"These are the activities IE includes in our program ensuring our travelers leave Cuba having formed personal connections, and their new Cuban friends have a deeper understanding of us too," said Cox.
International Expeditions' 10-day Cuba program starts at $3,898 per person for June 2012 departures, and includes virtually everything except domestic airfare, charter flights from Miami to Cuba and items of a personal nature. Additional 2012 and 2013 departures will also be announced soon. For more information on people-to-people travel to Cuba and to complete a participant interest form, contact 800-234-9620 or visit http://www.IEtravel.com/Cuba.
Celebrating 32 years of nature travel, International Expeditions specializes in small-group journeys to Earth's most exhilarating destinations. A pioneer of environmentally responsible travel, IE is committed to preserving natural habitats and improving the welfare of the people and communities it visits. International Expeditions has been named to Travel + Leisure's list of "World's Best" tour operators & safari outfitters seven times and to National Geographic ADVENTURE magazine's list of "Best Adventure Travel Companies on Earth."