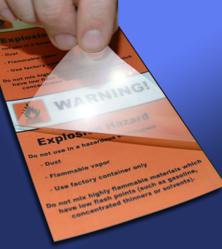 (PRWEB) April 27, 2012
Polyonics, a manufacturer of high temperature label materials and engineered tapes has designed two overlaminating films that offer superior heat resistance, but also the image protection that your label or sign may need.
Constructed on a Polyethylene Naphthalate film, these thermal transfer printable overlaminates will deliver superior performance in chemical and abrasion resistance while adding rigidity to the label to maintain performance in extreme harsh environment applications.
Working in environments above 125°C and able to withstand short term temperature spikes up to 300°C these clear films add longevity and durability while protecting your colored graphics, logos, symbols for warning labels and industrial signs.
XL-1600 2 mil clear film with 1 mil acrylic adhesive - designed to protect labels and signs in high heat applications. Clear film does not change the appearance of labels where color graphics or small print is needed.
XL-1601 2 mil clear film with 1 mil silicone adhesive - designed for use where extreme cold, hot or chemical exposure is expected.
To receive technical information or samples of these new innovative products, please contact a technical expert at +1 (603)352-1415 or email info (at) polyonics (dot) com