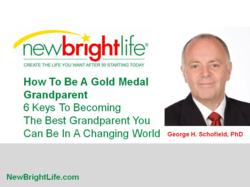 Grandparents and grandchildren have something in common. They are inventing and reinventing themselves in ways that the generation in the middle cannot.
Lakewood Ranch, FL (PRWEB) April 26, 2012
According to George H. Schofield, PhD, founder of New Bright Life, LLC, grandparenting for people over 50 needs to change. This is due to a combination of factors: a dramatically changing world, a longer lifespan and greater health for grandparents, and the demands and opportunities facing today's grandchildren.
Dr. Schofield offers the opportunity for aware and engaged people over 50 to move from being average grandparents to being Gold Medal Grandparents.
According to Dr. Schofield, grandparents can dramatically affect their grandchildren's futures, including their ability to learn, their educational success, employment, personal relationships, social status, life satisfaction and financial security. Schofield's research reveals that children who miss out on developmental essentials will spend the rest of their lives trying to catch up.
In an upcoming live web event, Schofield will be teaching grandparents over 50 three things. First, how to have the maximum impact on the success of their grandchildren's lives, both today and in the future. Second, ways to have the most enjoyable and beneficial grandparenting experience possible. Third, how being a Gold Medal Grandparent is critical for the grandparent's successful aging and contributes to a high quality of life for the grandparent and grandchild, for years to come.
Schofield's teaching is based on his firsthand experience of grandparenting as well his expertise in psychology, lifelong development, adult learning, counseling, and being a life coach for over 50.
Participants have the option to access the seminar online or via teleconference, and a transcript of the event is available upon request.
For more information, please visit http://www.mynewbrightlife.com/fe/23914-how-to-be-a-gold-medal-grandparent-6-keys-to-becoming-the-best-grandparent-you-can-be-in-a-changing-world
About George H. Schofield, PhD
George Schofield, PhD has over 40 years of expertise and experience in successful aging, lifelong development, and extended employment — and how these intersect and affect individuals, employees and businesses. He is a innovator and thought leader on employment over 50, personal development for people over 50, business creation for entrepreneurs over 50, and organizational transformation.
Dr. Schofield is a speaker, aging expert, consultant, futurist, entrepreneur, and the author of "After 50 It's Up to Us, Developing The Skills and Agility We'll Need." George is CEO of New Bright Life, LLC, dedicated to helping people over 50 create their best possible lives, personally and professionally. He is Founding Principal of The Clarity Group, LLC, a transformational consultancy helping business succeed in the 21st century.
George was senior consultant for a multinational consulting firm and Vice President at Bank of America in San Francisco. He is the former President of the Advisory Council to the Commission on Aging and Adult Services for the City and County of San Francisco, and former President of the Association of Advisory Councils to 34 Statewide Commissions on Aging and Adult Services throughout California. He also holds a faculty appointment at the University of South Florida, Sarasota-Manatee.
About New Bright Life, LLC
New Bright Life's mission is helping people over 50 by giving them the tools they need for successful aging. Even as they are getting older, people over 50 can learn how to live their best possible lives, find or create work and make money, enjoy great relationships, make smart, flexible plans, manage life changes, and get ready for a great future.
Contact:
Benjamin Gioia
Vice President
New Bright Life, LLC
941-388-8108
ben(at)newbrightlife(dot)com
http://newbrightlife.com
# # #