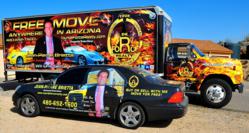 Expect More, Pay Less.
Anthem, AZ (PRWEB) April 27, 2012
Tour De Force Realty is a small boutique real estate company located in Anthem, Arizona and is the brainchild of its designated broker, Jean-Pierre Brietta, who has been selling real estate in the valley of the sun for over nine years. When he became a broker, he set out to provide his clientele the level of service he used to deliver for 25 years as a manager in the finest private country clubs and most elegant five star resorts in the Scottsdale area.
"Expect more, pay less," "unusual, unreal, unbeatable" are two of his marketing messages, and they describe very accurately the quality of the prestations his clients will be entitled to receive when they hire Tour De Force Realty to help them with their real estate needs. The most notable and most unusual perk Jean-Pierre offers is his "move for free" anywhere in Arizona, a service available to both buyers and sellers, regardless of the value of the real estate.
What is the catch? There isn't one.... Sell or purchase a home in Maricopa County with Tour De Force Realty. Upon closing of the transaction, Jean-Pierre will personally deliver "Emile" (his moving truck named after his grand father, pictured on the right) to the home being vacated. Once the truck is loaded, Jean-Pierre will drive it to the address of the new home within the State of Arizona. The only thing the client is responsible for is the loading and unloading, dictated by insurance and personal concerns for precious belongings. In the end, there is no mileage fee, no fuel fee, no truck rental, no delay, no credit card deposit, no headache. Buyers and sellers cannot afford not to use Jean-Pierre and Tour De Force Realty for their Real Estate purchases.
Need more reasons? How about moving to Naples, Florida (2200 miles) away? Sacramento, California (960 miles)? Lake Oswego, Oregon (1200 miles)? Such long distance moves will cost thousands of dollars if clients were to use any of the larger national real estate brokerage companies. With Tour De Force Realty, those three families moved to those cities without spending a penny. Granted the cost of fuel has gone up significantly in the last couple of years and some of those out of state moves may require an assessment of a fuel charge, based upon the price of the real estate transaction. However, if the purchase or sale value is over $400,000, Jean-Pierre will move anyone for free to any state, except Alaska. How many real estate agent or Anthem Realtor offer this kind of service after the sale?
Still not convinced? How about listing a home exclusively with Jean-Pierre and save 50% on the real estate commission? Tour De Force Realty will list any property for 90 days with an exclusive agreement for a total commission of 3% instead of the industry standard of 6%. For a $400,000 home, it is a savings of $12,000.
When buying a new or existing home, Tour De Force Realty charges no commission to buyers for representation and their move is free. It doesn't get much better than that...
In a world where it is expected to pay more to receive less service, isn't it nice to see an entrepreneur willing to create an real estate company where his clientele can expect so much more, yet spend so much less, all awhile indulging in the most enjoyable real estate experience in Arizona.
During the month of May, Tour De Force Realty is proud to support Costco's program to raise money for the Children's Miracle Network. Tour De Force Realty will submit an additional $500.00 donation in the name of each client who will close a transaction in 2012. Let's make a difference for the children.
If you want to find out more about Jean-Pierre Brietta and his real estate company, Tour De Force Realty, visit their website at http://www.tourdeforcerealty.com or call him directly at 480-652-1600! Check out the testimonial page to see what his clients have to say! But don't wait, Jean-Pierre limits the number of clients he works with to maintain the quality and the sustainability of the very personal service he aims to deliver.