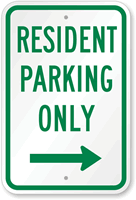 "We're known as 'The Amazon' of parking signs," said Blair Brewster, President of MyParkingSign.com. "We work tirelessly every day to ensure that our signs and services remain efficient and inexpensive to keep our customers happy."


Brooklyn, NY (PRWEB) April 26, 2012
MyParkingSign.com has added a new line of Resident Parking Only Signs. Residential areas must strive to create a community. Signs allow property owners and inhabitants to assert control over personal parking areas.
MyParkingSign is the Web's go-to source for Parking Signs. Since drivers have varying parking needs, the retailer offers over 3,000 sign designs-the largest selection of parking signs online. Resident Parking Only Signs is a special selection that provides a sense of home and eradicates potential disturbances by violators. One eye-catching component is the "future resident parking sign" which invites new families to visit a property and indicates open house hours. Parking signs make all the difference in regulating areas and maintaining peaceful living standards.
The collection consists of an impressive variety of signs, but the new "Resident Parking Only" signs are an attractive shade of mint green on a white background. The signs, printed with colorful 3M ink, are attention-grabbing to ensure that the right people have access to proper parking and that violators will be towed. Other choices have directional arrows to guide drivers and graphics of security cameras. A more elegant option is the SignatureSign version of the Future Resident Parking Signs to add a classy touch to parking spaces. Parking signs will last for at least fifteen years and come in sturdy aluminum, tough plastic, and laminated vinyl.
Different communities have different parking needs, so MyParkingSign provides over 500 custom sign templates. A user can identify each parking space, add a personalized logo for no charge, or the number of the towing company. "We're known as 'The Amazon' of parking signs," said Blair Brewster, President of MyParkingSign.com. "We work tirelessly every day to ensure that our signs and services remain efficient and inexpensive to keep our customers happy."
For more information on Resident Parking Only Signs, visit http://www.myparkingsign.com/Parking-Signs/Resident-Parking-Signs.aspx
About MyParkingSign.com
MyParkingSign is the largest online distributor of parking and traffic signs. Find over 3,000 different parking signs in stock as well as labels and accessories. Customers can create signs using convenient customization wizards.
About SmartSign
SmartSign is one of America's fastest growing e-commerce companies and parent of http://www.MySafetySign.com, http://www.MyParkingSign.com, as well as over 50 other sites.
Traditionally, signs with the right message have been hard-to-find, hard-to-design and hard-to-order. By positioning "Signs as Solutions", SmartSign has taken an entirely different approach. Through highly targeted, yet content-rich and authoritative sites, the company provides specific solutions to specific problems – such as keeping a parking lot safe. Couple this with fast and free shipping, 3M warrantied signs that outlast fast-fading ink jet signs from competitors, the web's largest range of designs and a best price guarantee, it is easy to see why SmartSign has grown so quickly.
Visit http://www.smartsign.com for more information.