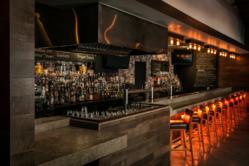 Santa Monica, CA (PRWEB) April 25, 2012
There's a new kid on the block on Main Street in Santa Monica who's already making a big splash. After a fast and furious 8 day re-vamp of the space previously occupied by Saluté Wine Bar, Brick+Mortar, a contemporary-American restaurant, opened its doors. On May 1st at 11am, they will celebrate their full opening and the launch of their new lunch hours with a ribbon cutting ceremony hosted by the John Madigan and Laurel Rosen of the Santa Monica Chamber of Commerce.
Tucked away in an enclave on Main Street, this hip, brick, leather-boothed den provides a tasteful yet casual laid-back atmosphere. Incorporating the elements of a classic neighborhood bar in a chic luxurious way, the design of the restaurant is inviting and versatile, with spacious leather booths for groups or for an intimate, dim- lit dining experience. Enhancing the community feel, a long countertop table runs through the center of the restaurant, the best spot in the house to mingle during happy hour while sipping on an in-house infused cocktail or draft beer.
Brick+Mortar serves up a mouth-watering menu, surprising the senses by adding a twist to the simplest dishes with unique, artistic presentation – from a gourmet charcuterie & cheese board to comfort foods including pizzas and burgers. The brand new lunch menu includes an array of items such as the ahi tuna burger, salads like their specialty Caesar, and their signature pizzas including the mushroom, kale and ricotta pizza and the green curry chicken.
Ribbon Cutting Ceremony Date: May 1st, 11am
Location: Brick+Mortar
2435 Main Street
Santa Monica, CA 90405
For reservations call: (310) 450-3434
Brick+Mortar Hours: Monday to Thursday: 11am to midnight
Friday: 11am to 1:30am
Saturday: 10am to 1:30am
Sunday: 10am to midnight
What people are saying about Brick+Mortar:
"The entrees are exceptional value with generous servings at a reasonable price."

"Bye bye enomatic wine dispensers, hello domestic and international wine by glass and bottle, and $12 cocktails that call for the likes of Sweet Tea vodka, fresh lemonade, and soda water."

"The boys at Brick and Mortar got it right; five star food at 3 star prices with an upscale meets hip vibe that plays GREAT music! A+ fellas!"

"They're keeping with the street's casual laid-back food theme, but sprucing things up with offerings like short-rib & blue cheese pizza and a weekend DIY Bloody Mary bar."

"There are many facets to Brick + Mortar: architectural landmark, Sunday Funday destination and happy hour hotspot. When you put it all together, it is a unique addition to some of the older mainstays on the Main Street food and drink scene."

About BRG: Brick+Mortar is one of two restaurants owned by Brosephs Restaurant Group (BRG). Partners Justin Safier and Travis Lester founded BRG in July of 2012 in order to create one restaurant group with mutual goals. Broseph is a common term used in Hawaii that stands for brothers. This is how Travis and Justin view themselves and their entire staff, and these values are a strong foundation on which the company stands. BRG was founded on a passion and love for the restaurant industry, as well as a belief in the need for outstanding culinary experience paired with exceptional atmosphere. Their other property is the well-reviewed Bar Esquina in Cabo San Lucas, Mexico, and they look to open a new property in West Hollywood by the end of the year.
For more information on Brick+Mortar, visit their website at http://www.brickandmortarla.com, or follow them on Facebook (Brick+Mortar) and Twitter (@BrickMortarLA) for continuous updates.
Media contact: Kelley Coughlan, Melrose PR
Kelley(at)MelrosePR(dot)com
(310) 760-9825