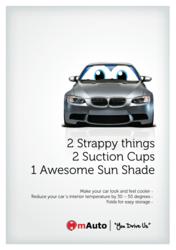 we wanted our customers to smile when they saw the sun shade.
Aventura Florida (PRWEB) April 26, 2012
Innovative online car accessories retailer mAuto Store has announced that the premiere of its Car Sun Shades video had excellent reviews. The company is shaking things up with a brand new video about its exclusive Eyes Car Sun Shades and all eyes and ears have been focused towards mAuto Store since April 17, 2012.
CEO and Founder of mAuto Store Lester Mapp indicated that consumers don't have really have cool car accessories so he dreamt up his company around that concept. Undaunted in its vision mAuto Store's team put things in place to make that dream become a reality and the must-see video is a definite step in the right direction.
In mAuto Store's car sun shades launch video, the startup also pokes fun at some of the million-dollar advertising campaigns as well as modern technology. The masterful startup is well aware of how to play up its strengths as well as its size. The company is certainly not the biggest nor the wealthiest player in the car accessories industry but it has a special ingredient in its secret sauce - originality.
Comments on the YouTube video show more females are drawn to the Pretty Pink Eyes car sun shade, while males prefer the mean glare of Angry Eyes. Why are customers reacting so intensely to the product? Well, it is attractive and there is no pointless fluff. But customers aren't the only ones attracted to mAuto Store's offering.
Several press releases from a number of news sites surfaced heralding the news of the company's first product launch and they seem to be stirring up as much excitement as the product video. With such a massive media blitz aimed at its product video mAuto Store is getting noticed by some online heavy-hitters.
Fast-paced online car accessories retailer mAuto Store has launched the first of what is expected to be a thrilling and entertaining series of product videos. How much could a company say about a car sun shade in one video? Seeing is the first step toward believing.
Boilerplate: mAuto Store is an online retailer and manufacturer of car accessories based in Aventura Florida. The company offers a unique online shopping experience for customers. For more information visit http://www.mAutoStore.com