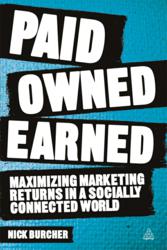 Burcher's study of the marketing and branding zeitgeist is informative, comprehensive, and nuanced."
Publishers Weekly
Philadelphia, PA (PRWEB) April 26, 2012
Author Nick Burcher defines "paid" as a go-to message, an advertisement; "owned" traditionally a store or product packaging, now extends to websites, blogs, social network pages and apps and "earned" as a water cooler conversation or editorial space that is now the whole range of digital channels too, including blogs, forums, YouTube and social networks. In his book 'Paid, Owned, Earned'(Kogan Page, April 26, 2012) Burcher shows how these three stands of marketing activity are linked, how they can be integrated into an overall campaign and how the response can be measured.
'Paid, Owned, Earned' is about the complexity of media channels offered to brands, agencies and advertisers. The proliferation of media channels and the ways in which consumers move from TV to Facebook to text messages to Google to Foursquare to iPads means it's difficult for brands to decide how to best reach their customers.
Burcher shows how the channels are linked together, each one having the capability and probability to impact the other often in an unpredictable fashion. He proposes a blueprint for communities and content, social media optimization, seeding and viral distribution, broadcasting and measurement. He includes a multitude of case studies and provides a clear framework on how to best approach the fragmented media landscape.
About the author: Nick Burcher is Head of Social Media and Digital Innovation at ZenithOptimedia Worldwide, one of the world's largest global media services agencies and part of the Publicis Groupe.
'Paid Owned Earned: Maximizing Marketing Returns in A Socially Connected World' published by Kogan Page, April 26, 2012 ISBN: 978 -0-7494-6562-9
binding: paperback, pp:279, 6 x9, $26.95
To arrange an interview or discuss review opportunities, please contact:
Melissa Weiner straydogmedia(at)gmail(dot)com 505-920-4006
http://www.paideownedearned.com & http://www.nickburcher.com