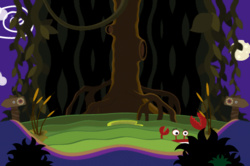 Orange, CA (PRWEB) April 26, 2012
Furdiburb is an independently developed title that is a mixture of virtual pet, puzzle, and adventure game. It is currently under development and is free to play. Please visit the company blog http://www.sheado.net for more details.
After vacationing on Earth, Furdiburb's alien parents accidentally leave him behind. Players care for Furdiburb by feeding and cleaning him and can customize his looks, furniture, and house with fun-themed designs. The main goal of the game is to explore gorgeous lands, play mini-games, and solve puzzles in order to collect parts to fix up a broken spaceship so that Furdiburb may return home one day.
This update introduces two new scenes - Mount Brimstone and Firefly Swamp, a mini-game which involves collecting fireflies while avoiding other bugs, an additional mutation potion for customizing the alien, new furniture, and a new spaceship part - the Vacuum Tube - as a reward for solving the new butterfly puzzle.
Also included in this update is another way for players to get gold poop - in-game currency - via recommended app downloads. This is a great alternative for those who can't or don't want to spend any money to acquire premium in-game currency.
About Sheado.net
Sheado.net was founded in 2010 with the mission to make the world a happier place - one app at a time. Currently targeting Android™ devices, Sheado.net is committed to creating enjoyable and rewarding experiences for users of any age.