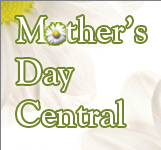 Winning $3,000 will certainly be something to celebrate!
San Francisco, CA (PRWEB) April 26, 2012
With the American economy still in the doldrums, Mother's Day Central has decided to take matters into its own hands!
The popular family-oriented site, which specializes in offering interesting and unique ideas for celebrating mom each year, today announced its "2012 Giveaway Gala" featuring a top prize of $3,000.
In addition to the $3,000 prize, Mother's Day Central is also giving away three free gift baskets from GourmetGiftBaskets.com, and a free flower bouquet from ProFlowers. That's five prizes in all!
"Times are still tough out there, and the recovery seems stalled. People need a break!" That's according to Doug Smith, one of the site's founders. "We want to do our part. So this year we thought it would be great to actually send one lucky winner some much needed cash, to spend as they see fit."
"In the past, our Facebook and Twitter followers have always been very appreciative of our giveaways," Smith continued. "This year, we're doing something a little different. Winning $3,000 will certainly be something to celebrate!"
The entry deadline is midnight, Friday, May 4, 2012, PST. Winners will be announced on MothersDayCentral.com, Sunday, May 6, 2012. Visit the Mother's Day Central's homepage for details.
About Mother's Day Central:
MothersDayCentral.com, founded in 2006, has grown to become the leading site on the Web for all things Mother's Day. Mother's Day Central's site visitors, Facebook fans and Twitter followers explore a wide array of gift ideas, activities and outings, crafts, poetry, recipes, and everything needed to help families celebrate mom on her special day. The site's annual Ten Best Mother's Day Gifts list has become a favorite source of ideas for millions of Americans each year, and the site's hugely popular "History of Mother's Day" page is a top resource for those wanting to know more about the origins of this very popular holiday.