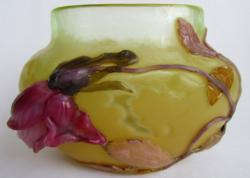 (PRWEB) April 27, 2012
A stunning example of Émile Gallé's Rose De France vase recently discovered in an estate will be offered for auction on May 17th at Royka's without reserve. Found wrapped up in a blanket in a hope chest, the vase is one of the finest examples of French Art Nouveau glass.
Émile Gallé (1846-1904) was at the forefront of the Art Nouveau Movement in France and pioneer in glass making techniques.
In 1870, the hometown of Gallé was annexed by Germany and France was full of sorrow after losing the Franco-Prussian war. Gallé chose to use the motif of the red rose, which only bloomed in the Mt. Saint-Quentin province of Lorrain as a symbol of his patriotism. In 1902 a vase from this series was presented to the Russian emperor as a prestigious gift from France.
This previously unknown example shows Gallé's innovative technique of glass marquetry which involved the incorporation of glass fragments of various thickness, shapes and colors into the still malleable glass. The multi-layering and use of metallic foils behind the glass makes this piece a tour de force.
Only a few known examples of this series of vases are known including one in the collection of Kitazawa museum, Nagano, Japan and Museum of the Ecole de Nancy. For addition information visit http://www.ROYKAS.com.