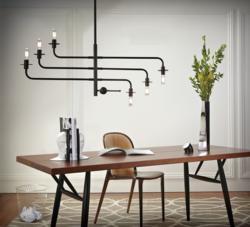 Sacramento, CA (PRWEB) April 26, 2012
Lumens.com has introduced the exclusive Atelier Collection by Sonneman, designed by contemporary lighting pioneer Robert Sonneman.
Available exclusively at Lumens, the Atelier Chandelier and Atelier Wall Sconce is his latest introduction, a sleek and seductively modern addition to the Sonneman line. The Atelier Chandelier is a contemporary work of art, merging industrial style with clean simplicity. Several arms swivel around the main stem, and the exposed bulbs can be arranged up or down, with a stabilizing bar at the bottom of the chandelier to keep the fixture steady when moving the arms any which way. The Satin Black Finish provides deep, dramatic contrast to the warm gleam of the exposed bulbs. The coordinating Atelier Wall sconce by Sonneman Lighting complements the larger chandelier, at once industrial and graceful, with three slim curved arms that swivel independently around the base stem.
Sonneman's inspiration for the Atelier collection came from an old-world looking T8 light bulb, which brought to mind an urban loft, such as those found in great iron industrial buildings in downtown New York. The movement of the arms from symmetrical to asymmetrical poses require a counter balance to keep it centered. Rather than hide that imbalance, Sonneman chose to glorify it. "The obvious dynamic weight must be set against the imbalance of the random poses possible from the variety of differing arm lengths, to form a sculpture that alters its presence by perspective, line of sight and positioning," says Sonneman.
Since 1967, Robert Sonneman has help to pioneer contemporary lighting as an art form with his world-famous designs. Inspired and driven by a fascination with architecture and design, Sonneman's work is anchored by an infinite curiosity and desire to create innovative products for the home. Sonneman as a company follows those tenets, creating innovative lighting for a modern age. The Sonneman collection features contemporary lighting with clean lines and geometric forms, including everything from chandeliers to floor, table and desk lamps.
Lumens offers the full collections from Sonneman, including the best-selling Teardrop Collection and the retro-styled Bubbles Globe Pendants. In addition to the new and exclusive Atelier Collection by Sonneman Lighting, Lumens.com also offers:
-Low-price guarantee
-Expert service via our customer service center
-Easy, no-hassle returns
-Volume order discounts
-More than 300 manufacturers, from contemporary lighting to transitional fixtures and modern furnishings, gifts and home accessories.
For additional information on these products or Lumens.com, contact Sarah Schaale or visit lumens.com.
About Lumens Light + Living:
Lumens Light + Living is dedicated to offering the very best of design-oriented contemporary lighting, fans and home accessories, from the most contemporary international designs to modern interpretations of classic design. Visit us on Facebook and Twitter.
Contact:
Sarah Schaale, Marketing Program Manager
Lumens Light + Living
916-444-5885
http://www.lumens.com
# # #